How to create AR White Label web experiences
Communication with a personal seal associated with a visual identity is a current necessity for brands and agencies. At Onirix we offer the possibility of creating totally personalised experiences based on white label.
Here we explain how to develop white label experiences from our creation tool.
Configure and edit AR scenes
The Scene Editor is the tool we will use for the design and configuration of the experience, from the scene editor you can create different types of experiences depending on the needs of the project (image, surface, maps). There are multiple types of content, such as 3D models, animations, videos, audios, images, etc. It is important to highlight that the scenes developed from Onirix will be free of watermarks or elements that distort the identity of a brand or campaign.
From this panel you can also add interactions to the elements that we select, so that we can create dynamic experiences. Onirix provides a simple mechanism to add some interaction by attaching events to your scene. You can find the full definition of interactions in our documentation.
Configure visual and logical part with code editor
Specifically through our online code editor you can customise your experiences by adding HTML, CSS and Javascript snippets. In addition, the online code editor allows you to create an AR web player user interface by overriding styles, or adding new elements such as custom logos, branded banners or buttons that can even trigger behavioural changes within the AR scene.
You can view all documentation related to the code editor at this link.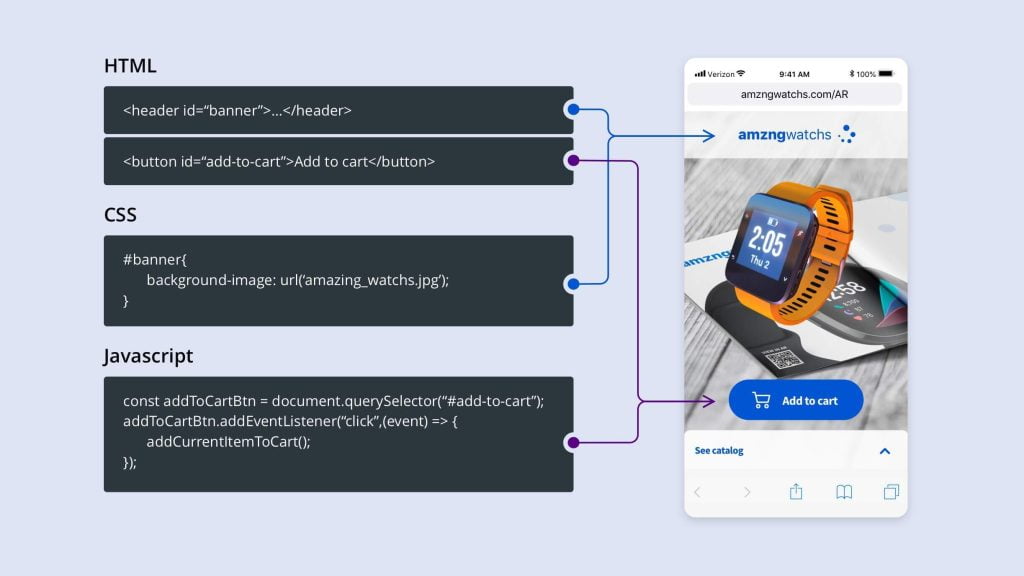 Embed html and custom Domains
Onirix offer you two options that allow us to display AR content for any web environment guaranteeing the greatest possible customisation
Embed html
Get a higher level of customisation thanks to the ability to embed webAR experiences created in Onirix in any external web or mobile application. With this feature you can copy an HTML code that is generated from Onirix, and insert it into any website or app, so that the AR experience can become part of it.
Customise domains
In Onirix you can have as many custom domains as you want. You simply register each of these domains in the system, and you can start using them.
With this mechanism you can hide the Onirix brand, and make the webAR experience 100% tailored to the needs of your customers.