Geolocated maps for Web AR: treasure hunt
Organize and enhance your web augmented reality experiences with GPS positions
Get in touch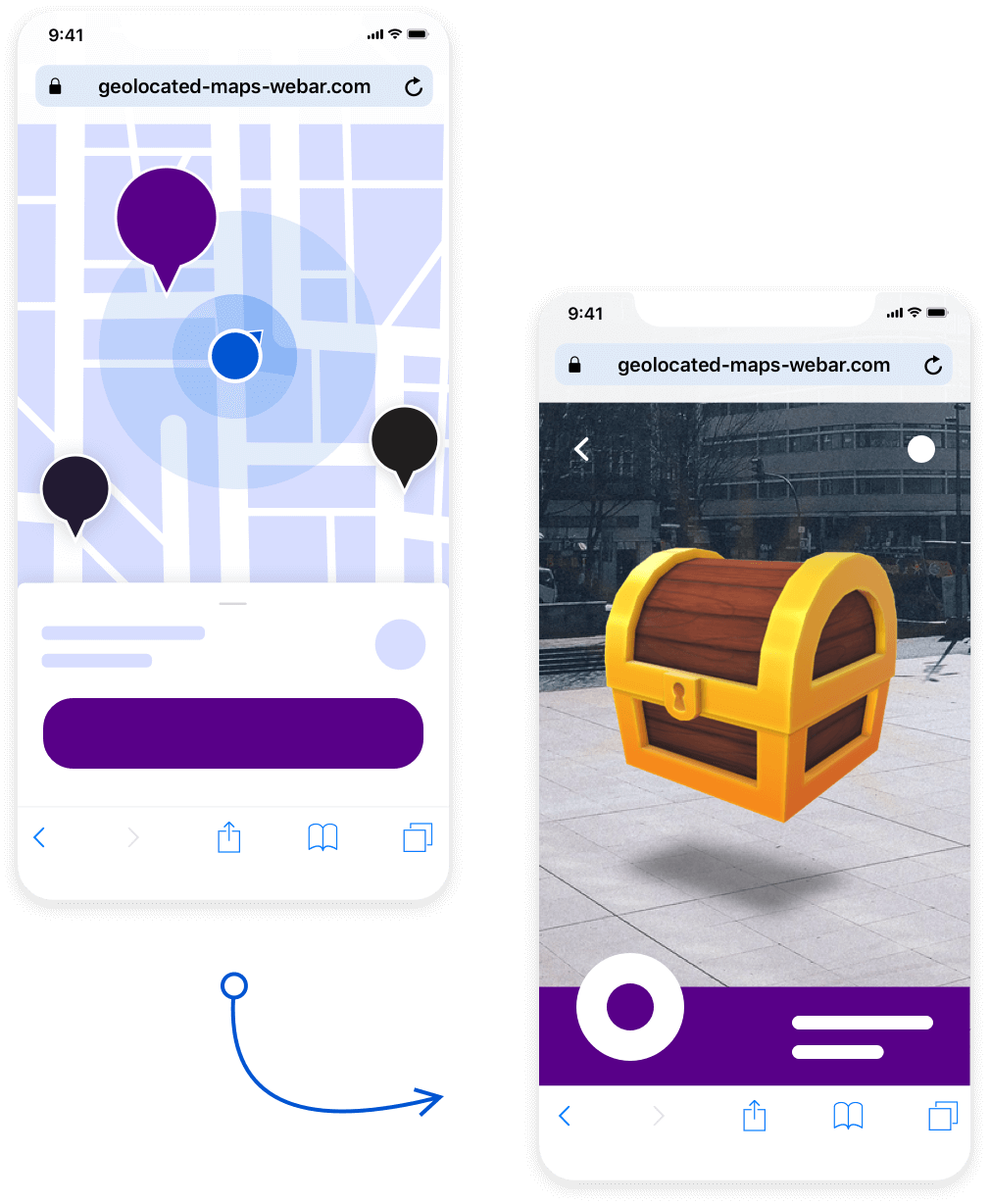 Get in touch
Augmented reality scavenger hunts for web browsers
Locate your experiences for retail, tourism, gamification strategies in marketing, culture; and guide your visitors to each of the points of interest.
Create your AR experience map step by step
Activate the option to include a geolocated map in any of your Onirix projects, and associate each scene with a GPS location.
More info
Your maps, your rules
With Onirix maps you can create a great diversity of project typology. Here we describe the most common:
Touristic, cultural and educative maps
Guide the visitors of your routes through the different points of interest of a city, or a rural environment. Connect experiences with historical buildings and emblematic places. Each location has its story, we invite you to tell it through augmented reality.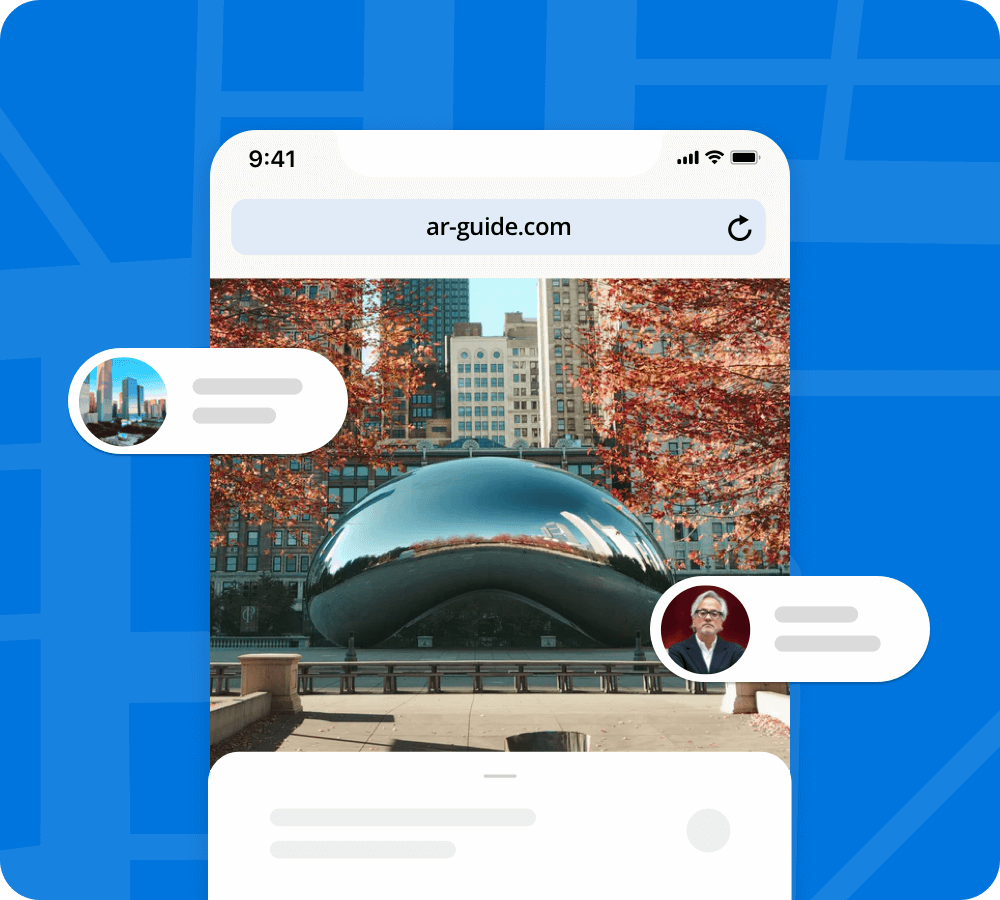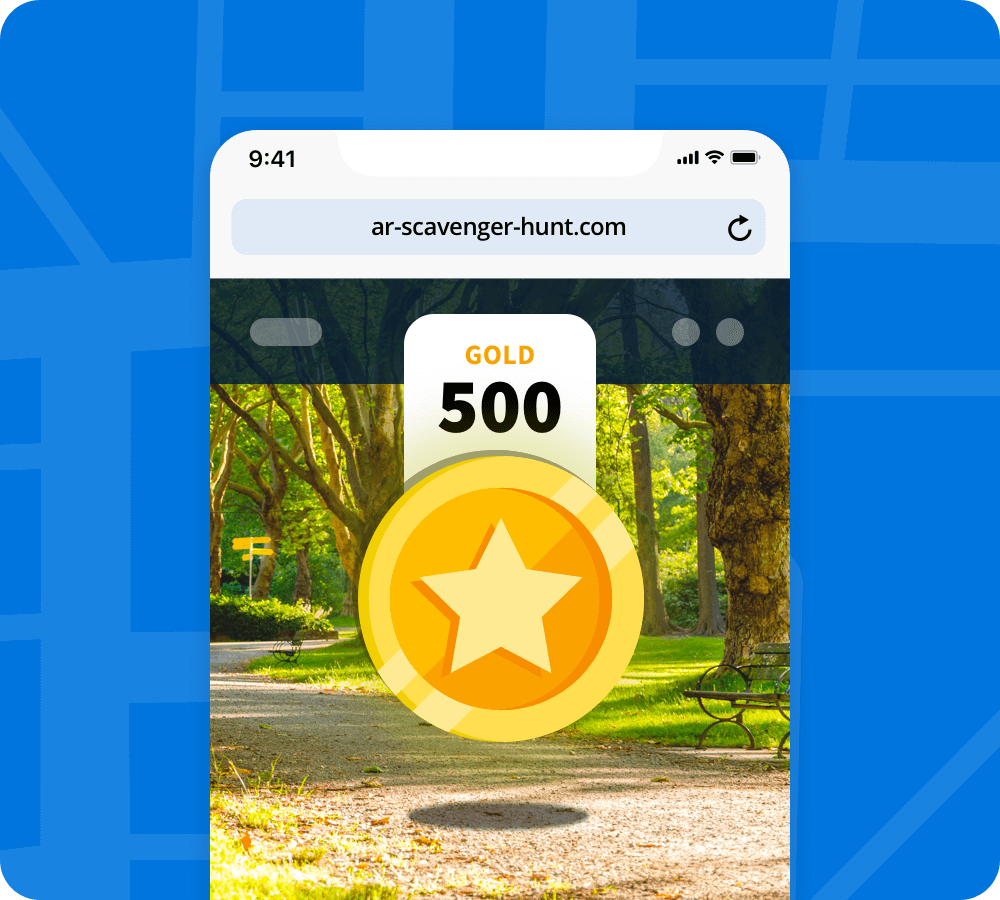 Maps for scavenger hunts
Creating treasure hunt experiences in outdoor environments has never been easier. Include hidden content in different locations in your city for your users to collect and earn points and prizes. You can either generate dynamics related to local businesses, or international brands.
Retail maps: location of offers and buyer guidance
A good digital marketing strategy associated with the retail sector, without a doubt, is to take potential buyers to specific areas of the city, to see stores with offers, new establishments, or simply to offer them an interactive and entertaining tool related to a or various brands.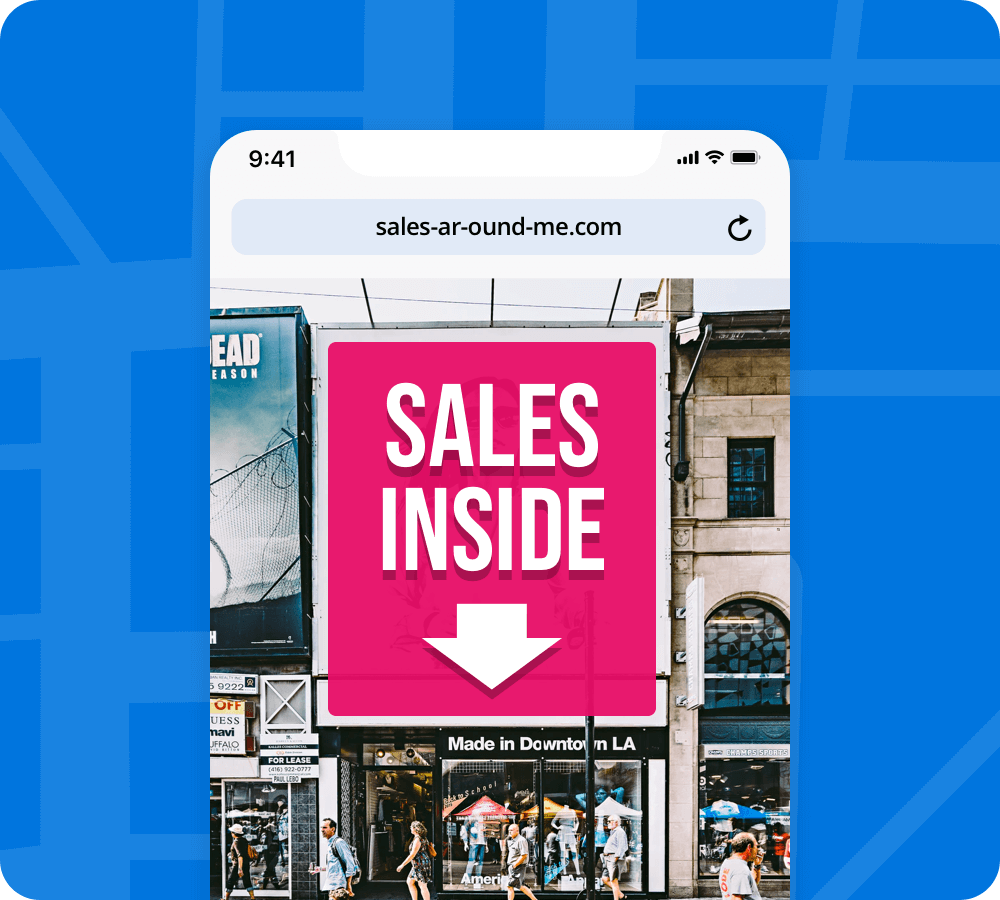 How to consume augmented reality once you reach the point of interest
Visual references
With this feature you can create content triggers anywhere. Simply take a photo of a building facade, mountain, waterfront, or sculpture, and generate a visual reference.
This will help the visitor to better understand the position from which to view the content, and it will adapt to different light and weather conditions. Also very useful to hide contents to unlock, for example, in a game.
More info
Image tracking
If part of the experience you design involves the use of a tourist map, or in front of a monument you have a physical poster, you can use these types of resources to associate specific content in a specific location, through those images.
Surface/Gyro tracking
Another option is to place something on a surface close to the point of interest, or in front of the user, floating in the air.
For example, if the visitor is going to see a video related to the location, or a 3D character that, as a guide, tells a story about what is in front of him. It is also the ideal option to place offer type elements or commercial actions.
Create your own augmented reality map step by step
At this point we give you some tips and advice when creating a geolocated experience. It's very simple, try it yourself!
1. Plan your route
The first thing is to devise the route or routes that your users are going to take. Do you have a specific order? How many locations do you want to include? What information do you want to show in each of them? What kind of experience? Will there be 3D content, videos, other types of elements?
Key tip
If you plan to include visual references in all or some of the pois, it is important that before starting to design your route in Onirix, you have taken photos of each of these references. This is very useful when starting to define the map
2. Create the scenes in Onirix
For each location, as we have already said, you can associate an AR scene (image, surface, visual reference). Once the route is devised, it is time to go one by one including the content of the locations.
3. Activate the location
Go to the project settings in Onirix, and activate the option to associate map to content.
4. Match the scenes to their locations
For each scene you can edit its position on the map. Simply add a location, and choose the specific point on the map where you want it to be located.
5. Fill in the information for each location
In the menu on the right you can add a description and a photograph to each location. This is important to provide clues to your visitors.
Key tip
If the location has a visual reference, it may be useful to place the photo of the reference in the description of the place.
6. Share your map
As in the rest of the Onirix web projects, you can go to its settings and generate a link and QR to share it. You can also fill in the general information of the project, which will be the welcome screen.
Do you need us to help you with your Scavenger Hunt project?
If you need our consulting services, design or development of projects of this style, you can contact us for a video call. We have already done this with other clients:
Engen - Quickees Play
Thanks to augmented reality, Engen has created a fun dynamic, where its customers can visit the more than 900 service stations in South Africa, and win great prizes hunting augmented reality treats.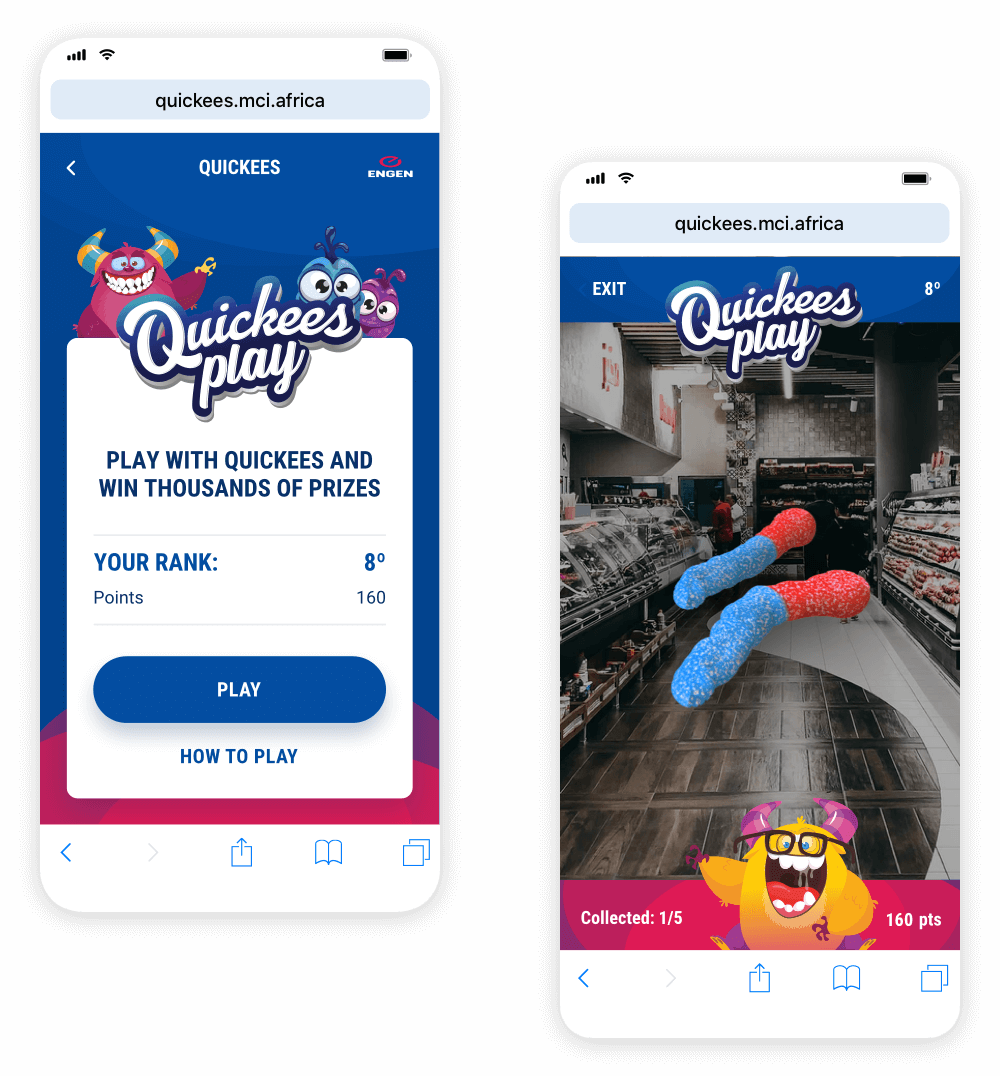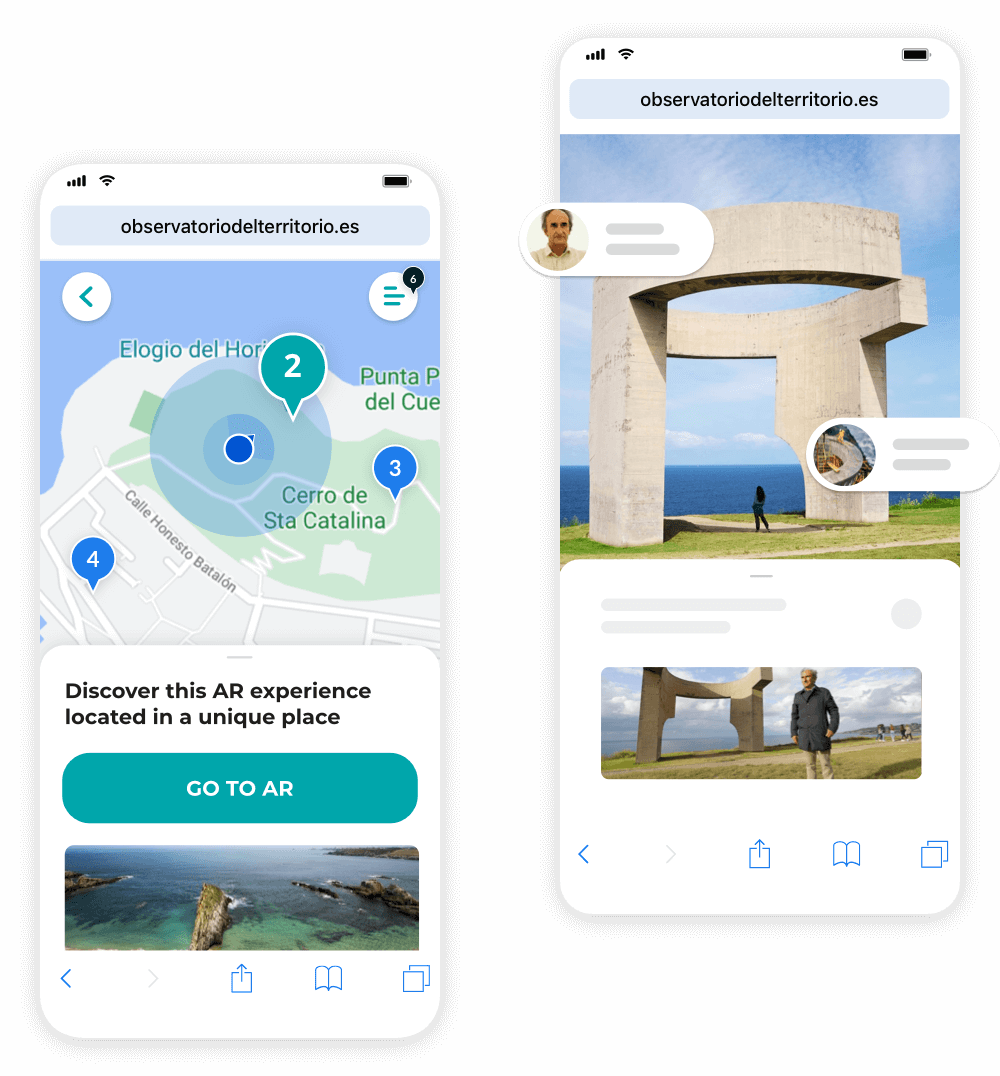 Observatory of the territory
The Observatory of the territory is a spin-off of the University of Oviedo, which uses geolocated augmented reality to generate different routes of tourist and cultural interest. They are based on Onirix to dump their historical and cultural contents, using the tools for creating maps and routes.
They also adapt their content to various types of possible routes: urban, trails, coastal, mountain, etc.
Parque Ferrol
In the Parque Ferrol shopping center, a treasure hunt-type game has been included where visitors hunt hearts, hidden in various locations, and which generate points to obtain prizes. This action is part of the mall's anniversary marketing campaign.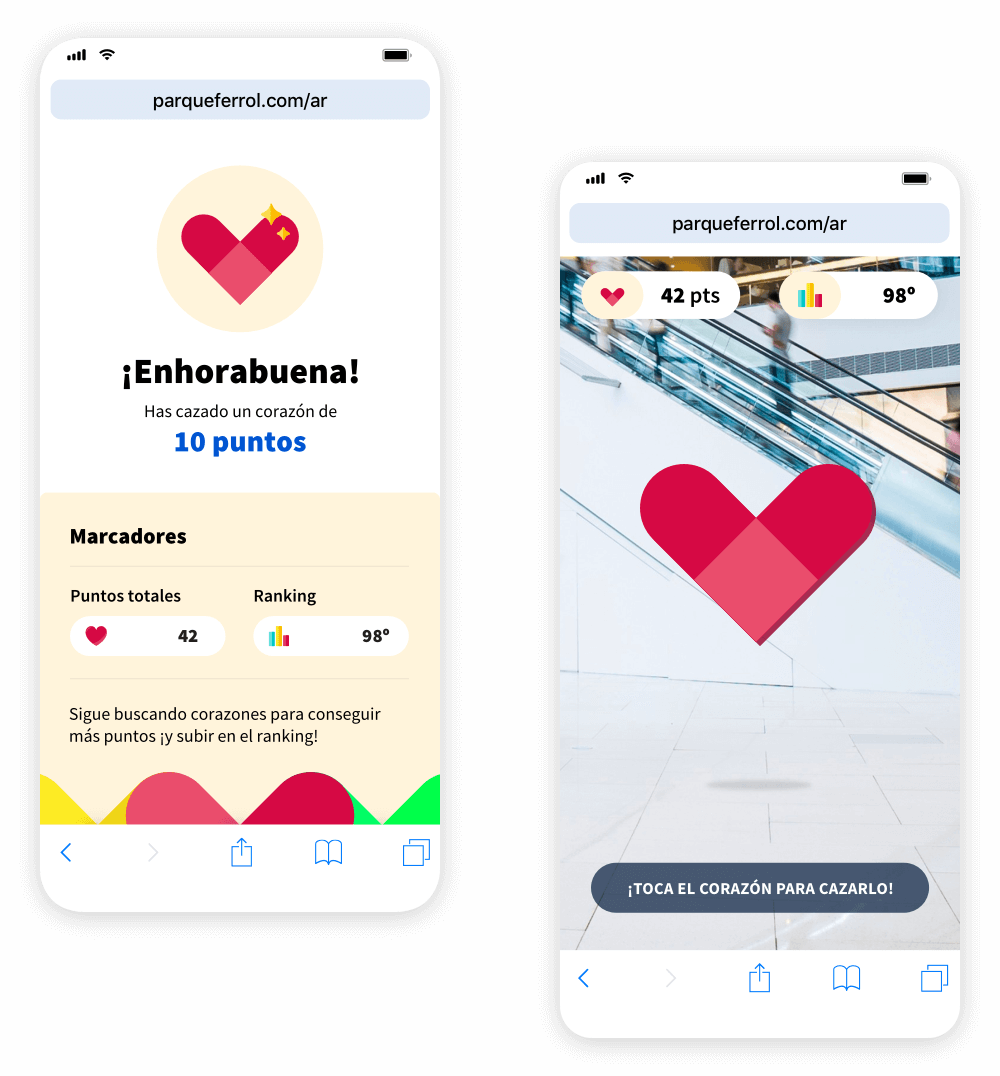 Tell us what you have in mind!
Before writing to us, take a look at some of the things we will need to know to start working. If you specify any of them already, we can refine more from the beginning
Do you want to collect user data? (name, email, other...)
Will you be giving prizes, vouchers, or coupons?
Will the user get points to add up into a ranking?
Do you already have an app where you want to include this experience?
Now, let's tell us what you have in mind and we will answer you as quickly as we can.