Augmented reality in the construction sector. Benefits, uses and applications
Augmented reality has achieved great trajectory in different work and production sectors. It is increasingly present in everyday life and many companies are using it for the purpose of representing physical reality applied, basically, to digital elements. In this sense, it is totally connected to the great technological advances.
The growth that it has achieved in recent times can be checked, precisely, in the construction sector. This is due to the possibility of visualising works by means of digital solutions that, in general, make it possible to improve projects and achieve a better visualisation of those products that are intended to be offered to clients. In this way, a level of efficiency and quality is achieved that undoubtedly helps to make the results more interesting and attractive, without forgetting that the possibility of errors is also greatly reduced.
To understand more specifically what augmented reality means in the construction sector, we need to understand its benefits, uses and applications.
Benefits of augmented reality in construction
Firstly, it should be noted that AR is a technological resource that allows the user to interact with the model of a property to be built. This provides a very realistic experience when creating a digital representation of the property; in this way, a series of goals can be achieved that guarantee a high quality result, which will also give prestige to the development company.
In recent years, augmented reality has been increasingly introduced in productive and economic sectors. For this reason, it is closely linked to digital progress and the search for technology that goes hand in hand with construction and offers more facilities and greater functionality in the workplace.
In this sense, some more specific benefits of augmented reality should be highlighted:
It allows the user to get a totally realistic idea of the project to be carried out. This is positive for the architect, the builder and the worker, as well as for the end client. In this way, the latter is offered a more specific and clearer image of what is going to be carried out, that is, a background of the project that is going to be carried out. This is really positive in order to anticipate the final result.
It is considered an appropriate resource for the presentation of a product, that is, the company can show what the construction is going to be like to future buyers. Thus, we can consider it as a resource that contributes to improve the marketing of the company, to guarantee a sale and that there is a previous visualisation of what is going to be done.
Augmented reality allows projects to be contemplated and analysed in order to detect possible faults or to check what needs to be changed or is not to the buyer's liking. It is a very powerful tool for anticipating, speeding up processes, avoiding errors and, in short, improving the final result.
Coordination between workers and clients is improved through the use of augmented reality. Any construction that can be seen digitally allows the construction company to advise in a more specific and direct way. In this means, that the client can corroborate the idea they want to put forward and get to know what the building and its processes will be like in much greater detail.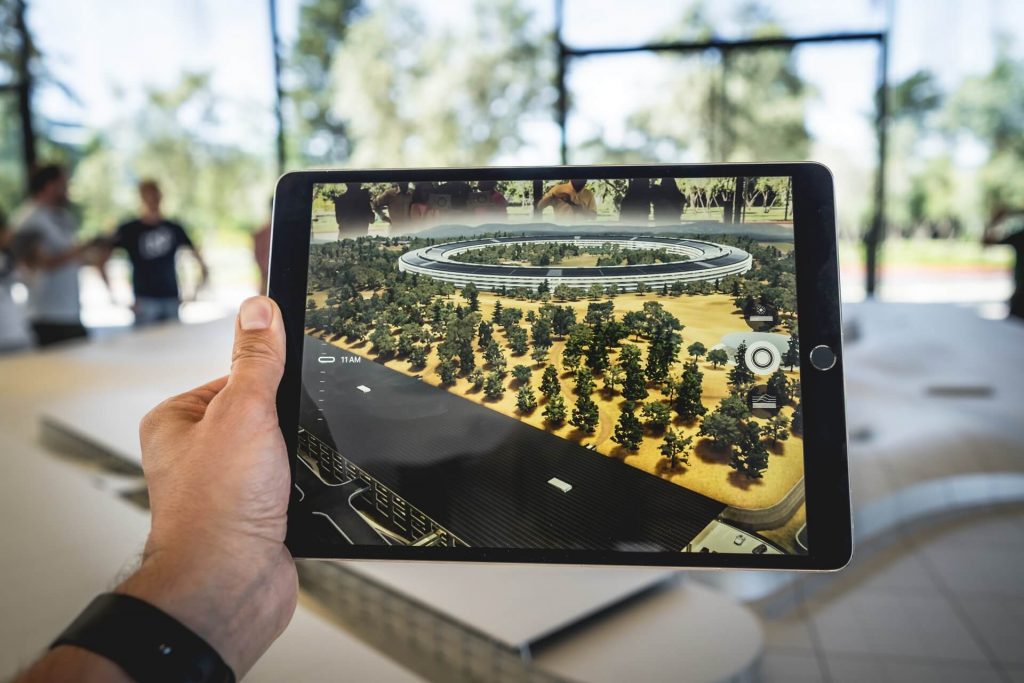 Uses of augmented reality in construction
The uses that augmented reality can offer in the world of construction are very diverse. Let's take a look at some of them:
Facilitating and improving the understanding of the project in order to find solutions that guarantee the quality of the construction.
Planning the steps to be followed in a construction project in order to avoid errors and improve processes. In addition, it is possible to make a comparison between the reality of the construction site and the 3D representation, as well as to take it as a reference. This also helps to reduce costs.
Improving quality control is another use. As sketches can be difficult to understand and do not offer as many advantages and details as an augmented reality representation, a more comprehensive knowledge of the facilities or the building to be constructed can be obtained. This representation can also be used as a guide to establish the correct geometries and avoid other construction complexities. As we have been saying, it avoids multiple errors and makes the processes more efficient.
Knowing the different execution processes. Augmented reality for construction projects can be seen as a digital model that can be viewed externally. The layers of materials and parts of the construction offer a broader visualisation of everything that is intended to be carried out.
Augmented reality, as we have seen in other publications, is a great resource for promotion and marketing. Any developer or construction company that makes use of this technology will be able to ensure more efficient processes, a better user experience and, therefore, better results. This will translate into an increase in sales, as well as an improvement in their image and reputation and greater social and professional recognition.
Applications of augmented reality in construction
In the world of augmented reality in construction, there are a number of applications that, of course, make life easier for construction professionals in the development of their projects. By making use of augmented reality tools, realistic digital designs can be produced that can be used to create mock-ups and other functional plans for construction.
The production of high quality 3D designs helps in the creation of construction models that serve as a basis before starting construction; therefore, those works that are carried out based on augmented reality, thus, allow the prior design of constructions with a high level of realism and detail.
In short, augmented reality is an ideal resource for developing project designs in the construction sector. In this way, the execution to be carried out during the entire project is exemplified and the constructor can organise, coordinate and foresee the construction processes in a systematic and efficient way.