Top 10 Augmented Reality Use Cases at Onirix
The most important thing to take into account when determining whether an augmented reality solution is good or suitable is the ability to communicate with users, the ability to interact, the ability to save production time or optimise tasks and processes or the ability to solve a problem from another approach. There is also always the creative and attractive factor, which in many cases is essential to attract the attention of users.
As we have seen in other posts, it is a technology with infinite possibilities that offers multiple benefits in the value chain of any company, in addition to improving the user experience. But, when working with it, you have to be clear about what problem you want to solve or what value you want to add and for what purpose. We invite you to read our post about what is augmented reality where we can answer any questions you may have about this technology.
For this task we invite you to read our post about the different types of augmented reality where we talk about them and tell you about their different features and objectives. In addition, here are 10 of the most outstanding examples of augmented reality experiences created in Onirix and applied in various sectors with a clear utility.
1. RBC x Music festivals – Treasure Hunt
Salt XC, creative marketing agency, through Onirix, has provided a solution to RBC x Music by generating a AR geolocated gamification dynamic in renowned festivals such as Cavendish, Bluesfest or Ilesoniq held in Canada.
Visitors could move around the festival to play AR (logo hunting) experiences, collect points and redeem them for prizes in different categories. As a result, more than 3,000 users played more than 14,000 games and an average of 500 prizes were redeemed.
2. Goiko – Marketing campaign with AR
With the launch of a new product, Goiko was looking for an engaging campaign that also gathered new customer data. Creative agency NowAR designed an augmented reality game dynamic, adapted to Goiko's image, accompanied by a gamification campaign based on prizes.
Over the first three weeks of the campaign, more than 50,000 unique players played, with an average of 1.8 games per player, and a total of more than 200.000 views. In addition, the company generated more than 14,000 leads with this campaign.
3. Engen – Quickees Play
South African marketing agency, MCI, through Onirix created a gamification dynamic to attract audiences to Engen's 900+ service stations. They also wanted to showcase their new brand of jelly beans, Quickees, in a fun way.
A game design adapted to the brand image was created, as well as a jelly bean hunt dynamic, in the different regions of the country.
The campaign, which was initially planned for two weeks, was a complete success, with more than 35,000 games played during the two months of the campaign.
4. La Tagliatella – Augmented reality menu
La Tagliatella's digital marketing agency, Dakota&Durango, was asked to create the audiovisual and creative content for their new menus. As part of that process they were able to offer a service of creating dishes in augmented reality.
During the first year of the virtual menu, La Tagliatella's dishes have been viewed around 400,000 times, and they have renewed their services for their new dishes for next year.
5. Ancestry – Photograph exhibition with Web AR
We show you an exhibition realised by Ancestry in a completely different way.
Thanks to Onirix, the SALT XC agency turned a temporary art gallery into a space where visitors could connect with the photographs. Through a Web AR project with Image Tracking, different works could be seen hidden behind numbered markers in empty frames, which came to life when detected.
A use case to discover, and never better said, the hidden treasures of photographs taken in wartime.
6. Red Cross – AR games for hospitalized children
The Spanish Foundation for Social Technologies, TECSOS and the Red Cross Youth, thanks to Onirix, have created "entamAR", an application that helps hospitalised children to cope with the time they spend in hospital. This project offers virtual learning and interactive games such as escape rooms or treasure hunts, all interacting with their environment.
7. City of Barcelona: web AR interactive touristic map
In this experience you will be able to see how a tourist map comes to life, starting from the typical paper map or the maps placed in tourist offices. The experience starts from the physical image of these maps and shows different areas of the city (points of interest, restaurants, shops…) with interesting information that is displayed when the user clicks on each point.
At the Mobile World Congress 2023 in Barcelona, Onirix created a flyer with an interactive map of Barcelona inside so that all the event attendees who visited our stand could make the most of the cosmopolitan city while enjoying an augmented reality experience for the tourism sector.
This is a typical case of a tourism or cultural experience, but it can also be applied to the retail and consumer sectors. On this map of Barcelona you can offer two types of services to tourists and visitors: quality information about the city and information about sponsored or relevant establishments.
Would you like to create this experience or replicate it for your business? In Onirix you have access to our Experience Library where we have different examples and templates for a multitude of sectors that you can add to your Studio to create and replicate them in your business and also serve as inspiration. Here you can access directly to this experience map of the city of Barcelona.
8. Onirix Treasure hunt with map locations
This is an example of a complete Web AR treasure hunt based on GPS locations in which the user has to collect as many points as possible among all the locations.
This experience represents the typical treasure hunt in which the player has to visit different locations to accomplish the mission: to get as many points as possible within a time limit. For this purpose, the game has a GPS map with some locations (which are fully customisable).
This type of dynamic is very useful to get the user to travel a certain distance or to attract potential buyers to different areas or associated establishments. They are also a very good example to include dynamics in public events or festivals, as in the case of RBC Canada, and to promote games among the visitors.
This is another of the experiences that Onirix took to MWC 2023, so we offered visitors to try this demo so they could enjoy a treasure hunt in Web AR and could check the benefits it offers in different sectors and actions.
Would you like to create an experience like this quickly and easily? Here is the template for free!
9. Interactive AR web game for surfaces: nut-collecting robot
We present an interactive game for web AR on surfaces, where you must collect as many nuts as possible that appear around the robot. This dynamic seeks to show in an entertaining way the use of experiences on surfaces with Onirix. In this case, a character (the Onir-IX robot) will move in different coordinates to collect the nuts that appear randomly. You have to be quick as the nuts disappear after a few seconds.
This experience is designed to generate interaction with the user and can be associated with any type of campaign, product or gamification dynamic. As it is a surface experience, it can be launched anywhere. It is a very simple type of experience for marketing campaigns that can help us to improve brand image, increase engagement, generate loyalty campaigns or provide mechanisms for analytics and measurement of interaction with products or advertisements, among others.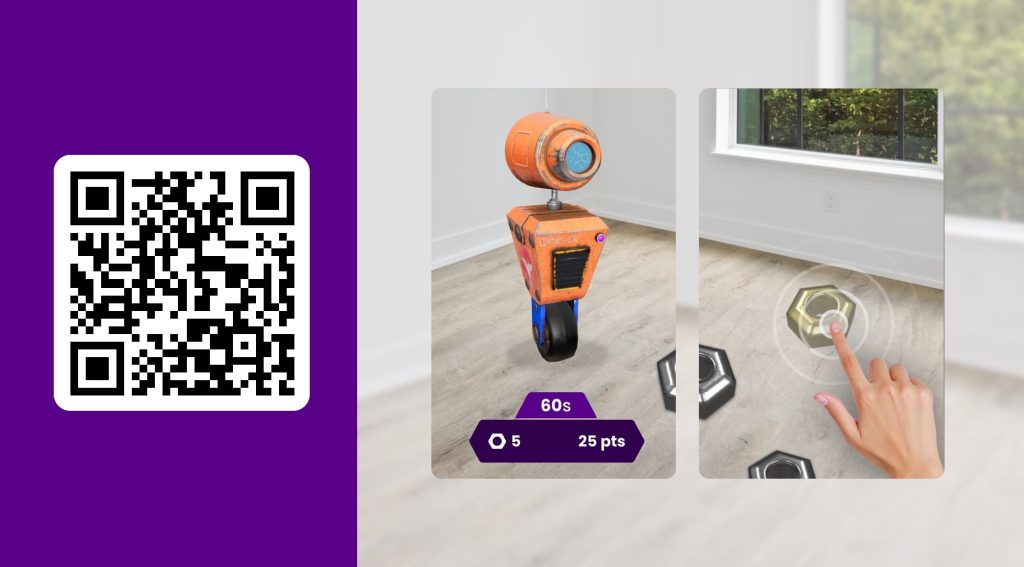 Find and download this experience here and discover more information about how to do this kind of campaigns with augmented reality on surfaces.
10. Step-by-step manual: Condensing Boiler
We show you an example of a step-by-step instruction manual for a complex mechanical element.
This experience is a step-by-step manual for an installation or maintenance process. In this case we use an element that is recognisable to everyone and that many people have in their homes: a condensing boiler. However, this type of step-by-step manual experience can be adapted to a multitude of elements and processes, from a router, a car engine, a washing machine or even more complex environments such as industrial installations.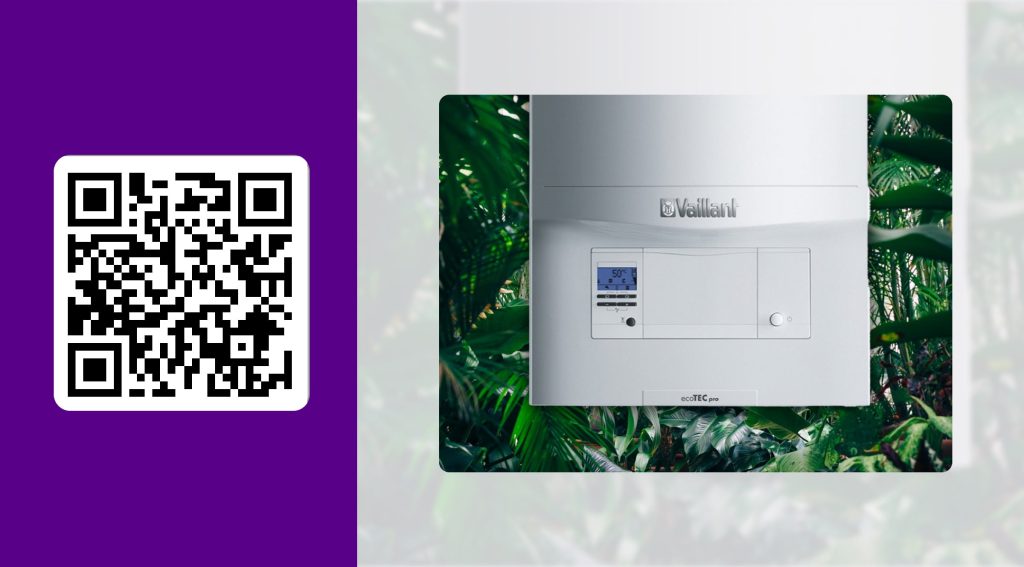 Try this experience and click here to learn more about it and to be able to replicate it.
As you can see, more and more sectors and companies are betting on augmented reality in their marketing strategies or in their daily processes. If you want to give shape to your own ideas, you can do it with Onirix. In addition, we offer you a Free Plan so you can try the platform and start creating professional augmented reality experiences quickly and easily.
If you prefer, you can write to us through our chat and we will offer you a personalised consultancy so that you can adapt AR to the needs of your business.