Augmented reality and tourism: the new travel experience
The tourism industry is one of the most important sectors of the world economy. During the pandemic, it was one of the sectors that suffered the most impact, but today it is once again recovering its growth and development.
Like any industry, tourism has evolved in recent years thanks to technology. From the way we search for and prepare a trip, to the organisation of accommodation, activities and transport.
Every day, new technologies offer tourists a much more satisfactory and advantageous experience. It is exactly in this sense that augmented reality is beginning to acquire importance in the tourism sector, taking the experience to another level.
Augmented reality experience in the tourism industry has been favoured, above all, by the digital transformation of the sector and, in general, of society. Smartphones, massive and easy access to the internet and geolocation are the main factors that have boosted AR in travel. We cannot forget, moreover, the changes in mentality and behaviour, as well as the new trends in users' consumption habits.
In short, augmented reality travel is enhancing the traveller experience, making it more real and immersive. This is giving rise to a new and much improved way of travelling and tourism.
Digital trends in tourism: smart tourism
To understand this concept, we must first understand what a smart city is. This refers to a city that relies on information and communication technologies when creating and building infrastructures for its citizens. In other words, a smart city is a city that combines people, technology and creativity to make it a more sustainable, efficient and valuable place.
In relation to this concept, we can already talk about smart tourism or digital tourism. A smart destination is an innovative place that, thanks to technology, offers its visitors a more immersive and interactive experience that improves the quality of their stay.
This is precisely the objective of augmented reality applied to tourism; to efficiently manage resources and build a place that meets the needs of travellers and tourists as well as improving and enhancing the quality of life of residents.
In short, there are many opportunities and benefits that technology, and specifically AR, brings to a city and to the tourism sector. In fact, more and more smart cities are offering digital tourism or smart tourism.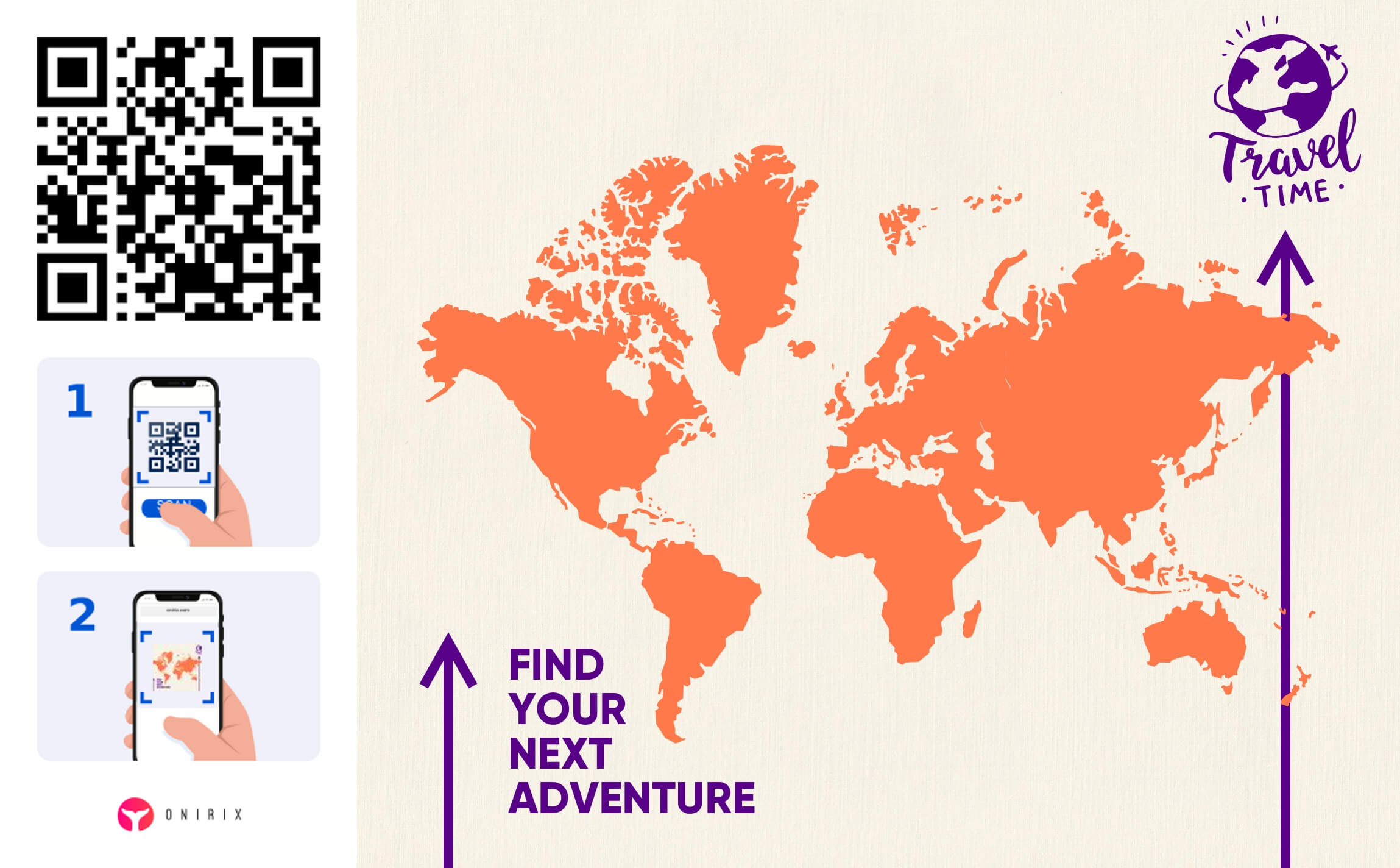 Augmented reality experiences: travel with AR
This concept of digital or smart tourism was born, as we have been saying, as a result of changes in the mentality and needs of tourists associated with technological advances.
The tourist profile we used to know, with its guidebook and paper map, has migrated to an interconnected and totally digital tourist. A traveller profile that has all the knowledge and devices necessary to enjoy a 360º experience during their trip and make the most of it.
This is precisely the ideal profile for augmented reality. A technological and digital tourist who not only wants to visit the destination, but also wants to make the most of their trip and get a fully immersive and interactive experience.
In this context, AR offers endless possibilities and activities; from information about the place, its monuments and buildings, to gastronomic and cultural itineraries, museums, schedules or transport information, among other options.
With just a smartphone and, thanks to the web AR, travellers can visualise all kinds of virtual elements on top of the real images, moving to a mixed reality. Moreover, they can interact with them and with the surrounding environment, going from being a mere visitor to becoming part of the place itself.
In short, AR in tourism industry makes it possible to visit any place and access all kinds of information, offering the most complete and satisfactory experience for any tourist.
Uses and examples of AR in tourism
As we have already mentioned, augmented reality and tourism are the perfect couple to offer the best and most complete experience. But what applications and uses does it have to make this happen? Let's take a look at some examples.
AR Tour
When we go on a trip we always try to organise activities in which we can get to know our destination as much as possible and enjoy it. Organised tours are often a popular option because they offer information about the most important points.
In this sense, guided tours are a unidirectional activity in which a guide tells the tourists the information while they simply contemplate the surroundings. But, as we have been saying, today's travellers demand more interactive experiences that give them more of a leading role.
Precisely for this reason, many tourist sites offer travellers the option of taking an AR tour so that they can take a more in-depth and experiential tour. It is a bidirectional activity, as the user interacts with the environment and its elements, and it is also real and immersive.
An AR tour, therefore, can offer different options. From taking the user to a totally real environment and recreating historical or past events, to interacting with different elements, providing information and even playing games while getting to know the environment. For example, a treasure hunt for the traveller to have fun while discovering the place.
AR tour guide
Another option we usually consider when travelling is to look for a guide to our destination that provides us with as much information as possible so that we can move around easily, know where to go at all times and even where to eat and sleep.
But this can be even easier with a digital guide or an "AR tour guide". Thanks to this experience, a tourist can walk down the street and get instant information about the surroundings with just his smartphone.
The web AR allows, among other options, to locate the most interesting points and access updated information on transport, restaurants, museums and any cultural activity. In addition, some digital travel experiences even offer the possibility of translating the information that the user is viewing, so that they can understand it in their own language.
Augmented reality museum experience
As with AR tours or digital guides, when visiting a museum, and thanks to augmented reality experiences, the visit can be more dynamic and, above all, more real and complete.
An increasing number of museums with augmented reality allow tourists to enjoy a guided and interactive tour at any time without having to book a specific schedule and without having to depend on a guide or a group.
Augmented reality in museum environments also offers the possibility of accessing more complete and entertaining information about each piece in the museum, as well as recreating the history of each one of them.