WebAR for marketing and digital strategy agencies
If you work in the field of marketing, digital strategy, or brand building, you have to familiarize yourself with the term webAR: web augmented reality. More and more customers request a campaign with augmented reality. They've seen an ad or tried an interactive experience, and they want something similar for their brand. Let's say that augmented reality opens a new communication channel between brand and consumer, in which a relationship of impact, recurrence, interaction, prescription, and loyalty can be generated.
What do we mean by webAR? If you have not heard of this, it is very simple: Augmented reality on the web. In other words, no need to download a mobile application for each campaign or client. Simply share a link, as we do with a video, a tweet, a meme, or any other internet resource. Through the web browser of our phone, we can navigate to the web address, and view an augmented reality experience. Fast and easy. This, therefore, opens up a new range of possibilities, as we discussed in this post about customer engagement.
In this case, what we want to tell you if you are part of the marketing or creative sector, is how you can apply this technology. With this, you benefit from its simplicity and impact, in the strategies that you propose to your clients.
I am a digital marketing agency, how do I apply webAR?
If you are an agency that develops 360 marketing strategies for your clients, or you are part of a creative company that produces audiovisual content. If you help companies improve their brand image or reach their consumers in a precise way. If you define and shape impact and communication campaigns, or even if you are a digital strategy consultant. In any of these and other cases, you should know that webAR is a tool that you can add to your portfolio, in your business lines, and above all, one more piece that can fit into the user engagement strategy.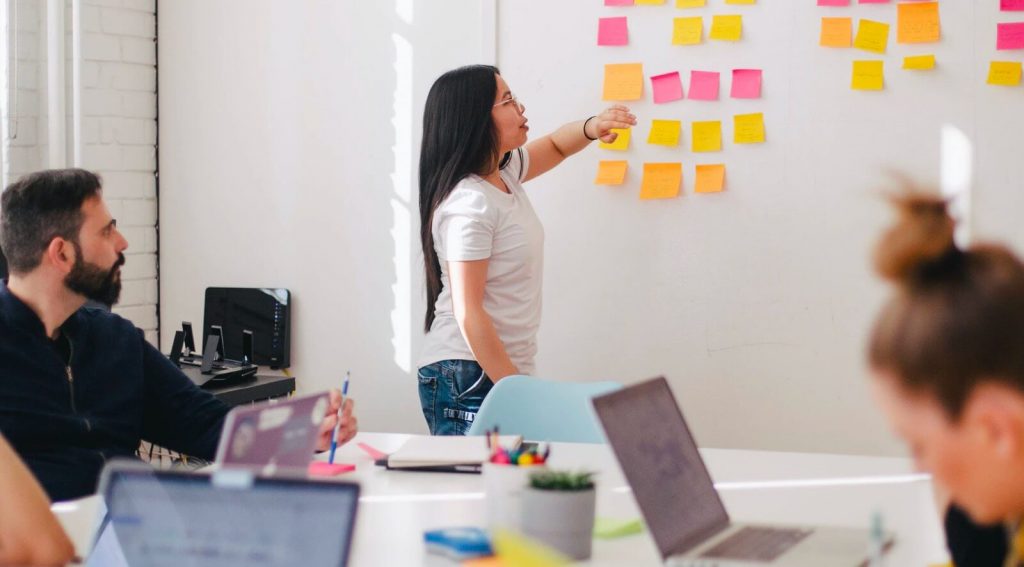 There are several ways to start including these types of services in your portfolio. Here are several ways that Onirix has devised, learning and listening to various clients from those same sectors with which we already work:
First step: test, design, create experiences, and validate.
At Onirix we have created the first step, what we call a Professional account. With this account, you can create all the projects you want within our platform. This first step allows you to create AR experiences of various types: image, surface, or QR code tracking. That implies being able to carry out different types of experiences or campaigns. For example, on an image, you can create content for a magazine, an advertisement in a booth, a poster, a package of a product…
For the surface part you can give the option of displaying products with total realism, such as a virtual catalog, on a horizontal or vertical surface: a piece of furniture in your living room, a pair of sneakers, or a wall clock.
Within Onirix you can also combine the typical augmented reality contents, which are 3D models, with other elements such as 2D graphics, videos, interactive buttons.
Commercial license: share with the world. Traffic and views.
Once you have a defined idea, your client has seen it, it would be time to take the next step: launch. The world can interact with the content, consume the campaign. This is obviously a process that can be measured, and therefore, learned from use, segmenting, and targeting.
The Onirix commercial license essentially allows it to multiply the traffic of your experiences.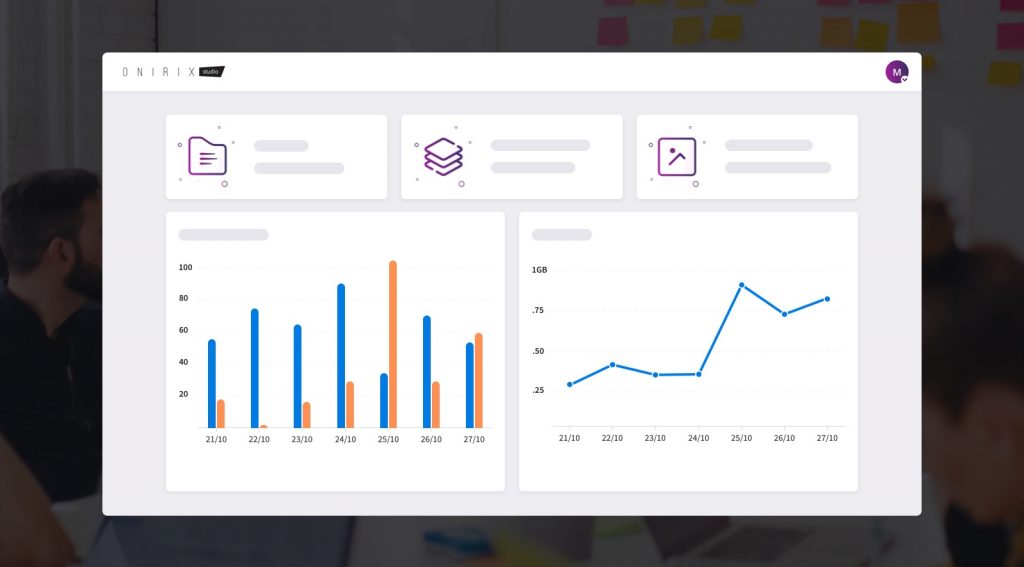 It has a model in which the views of each content, each scene are measured.
In this license, there are 10,000 monthly views. It is a sufficient size for initial campaigns, to begin to measure the impact of the work carried out, and to reach a considerable volume of potential consumers and buyers. In addition, with this license, you can include packages of 10,000 extra views at any time, if your campaign begins to grow, or you are targeting a client whose audience is much larger.
Custom domain: webAR on your own website (or that of your client)
A need that may appear during the process is that the end customer wants to include the augmented reality experiences associated with their own website. In this way, an experience created in Onirix could appear on a client's Landing page, in their own online catalog, or a specific page could even be created under their web domain, for this type of campaign.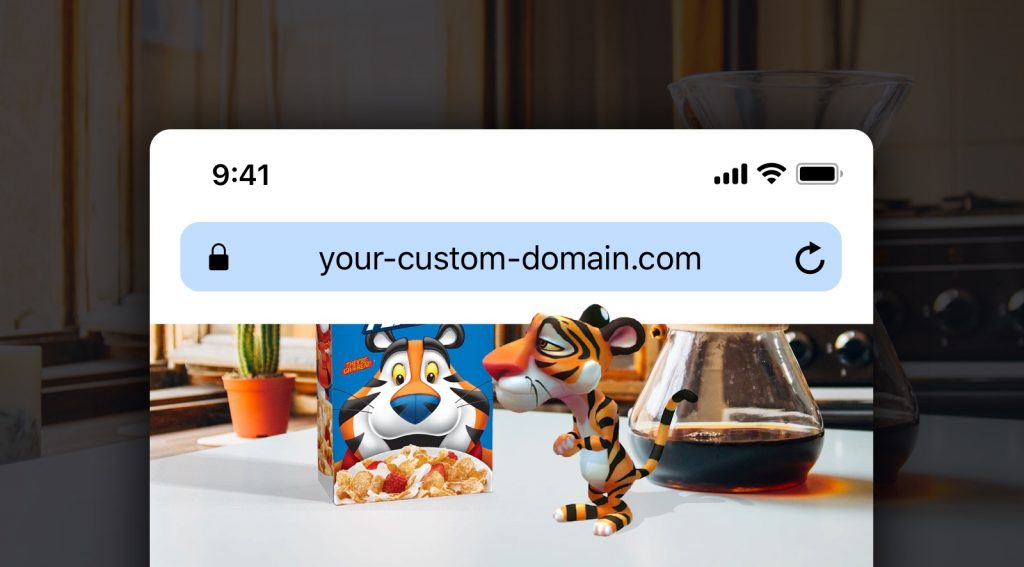 At Onirix we give this possibility to those clients who have a certain technical team. We provide two means for the adaptation of AR scenes on external websites: on the one hand, technical documentation to include an HTML frame on any website. On the other hand, an online code editor that allows you to modify the aspect of the experience (HTML, CSS, JavaScript). In this way, the experiences are completely embedded in the end customer's website, and as a consequence, their brand is further strengthened.
Experiences in open environments: markers with visual references.
A new concept that we are also including in webAR is the possibility of creating projects with what we call Visual References. With these references, an end-user can embed the content of the webAR experience in open environments, landscapes, buildings. That is, this is very useful for experiences where there are changes in light, changes in weather, elements that are very far away. A clear example could be an advertising campaign on the canvas of a building, or on an emblematic point of a city.
Tailor-made webAR projects: we help you in the process.
Finally, if you are an agency that does not have a creative department, or does not have the technical staff to adapt the experiences to the final client's website, from Onirix we can help throughout the campaign development process with AR. We carry out tasks from helping with the generation of content, the configuration of experiences, design of landing pages, complete development, and start-up of the project.
Whatever type of agency you are, do not hesitate to contact us, as we surely have a plan where you could fit in perfectly.