Extended Reality: Exploring the Future of Immersive Technologies
Extended reality (XR) represents a fusion of immersive technologies that blend the physical and virtual worlds, encompassing virtual reality (VR), augmented reality (AR), and mixed reality (MR) technologies. These cutting-edge innovations have the power to transform our interactions with the digital realm, from gaming and entertainment to business and education applications.
In recent years, advancements in extended reality have paved the way for new opportunities in various fields, enabling users to create, collaborate, and explore in computer-generated environments like never before. As XR continues to evolve, it has the potential to revolutionize industries and change the way people interact with the digital world, improving productivity, communication, and overall user experiences.
Key Takeaways
Extended reality encompasses VR, AR, and MR technologies, merging the physical and virtual worlds.
XR has applications in numerous fields, enhancing user experiences and enabling new ways of interaction.
The future of extended reality promises to transform industries and revolutionize how we engage with the digital realm.
Understanding Extended Reality
Recent advancements in hardware, like headsets and glasses, are transforming the way people interact with both virtual and physical worlds. With a focus on creating, collaborating, and exploring in computer-generated environments, XR has made significant strides in various industries from gaming to virtual production to product design 1.
In the realm of XR, Virtual Reality immerses users in a completely computer-generated environment. By using VR headsets, users can experience a high level of immersion, which has notable applications in gaming, simulations, and training 2.
On the other hand, Augmented Reality overlays digital information, such as text, images, or 3D models, onto the user's view of the real world. This can be achieved by either using smartphones, AR glasses, or headset 3.
Mixed Reality brings the best of both VR and AR by combining the elements of virtual and real-world environments. This technology allows users to interact with digital content that seemingly co-exists with the physical world 4. In MR, digital objects can be anchored to a specific location in the real world, allowing users to view them through a device such as a headset or glasses 5.
There are some key components needed to enable XR, such as:
A camera to capture the surrounding environment
A processor to understand the environment and simulate virtual objects in real-time
Supporting hardware, like headsets, glasses, or smartphones 6.
As XR continues to evolve, it represents a fundamental shift in the way people interact with media and technology. With the advancements in XR technology, there are endless possibilities for its applications, providing new ways for people to engage with the world and unleash their creativity 7.
Components of Extended Reality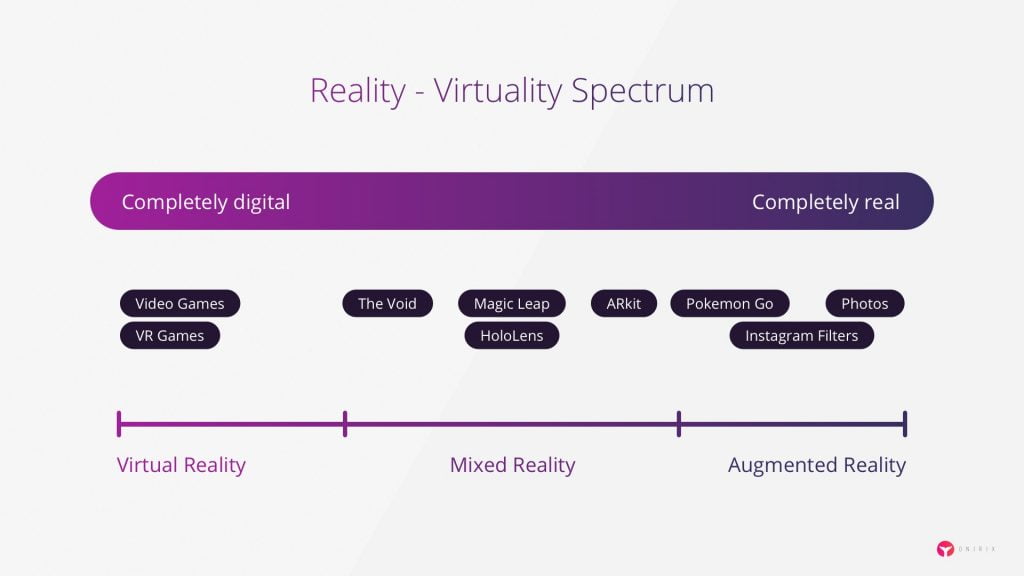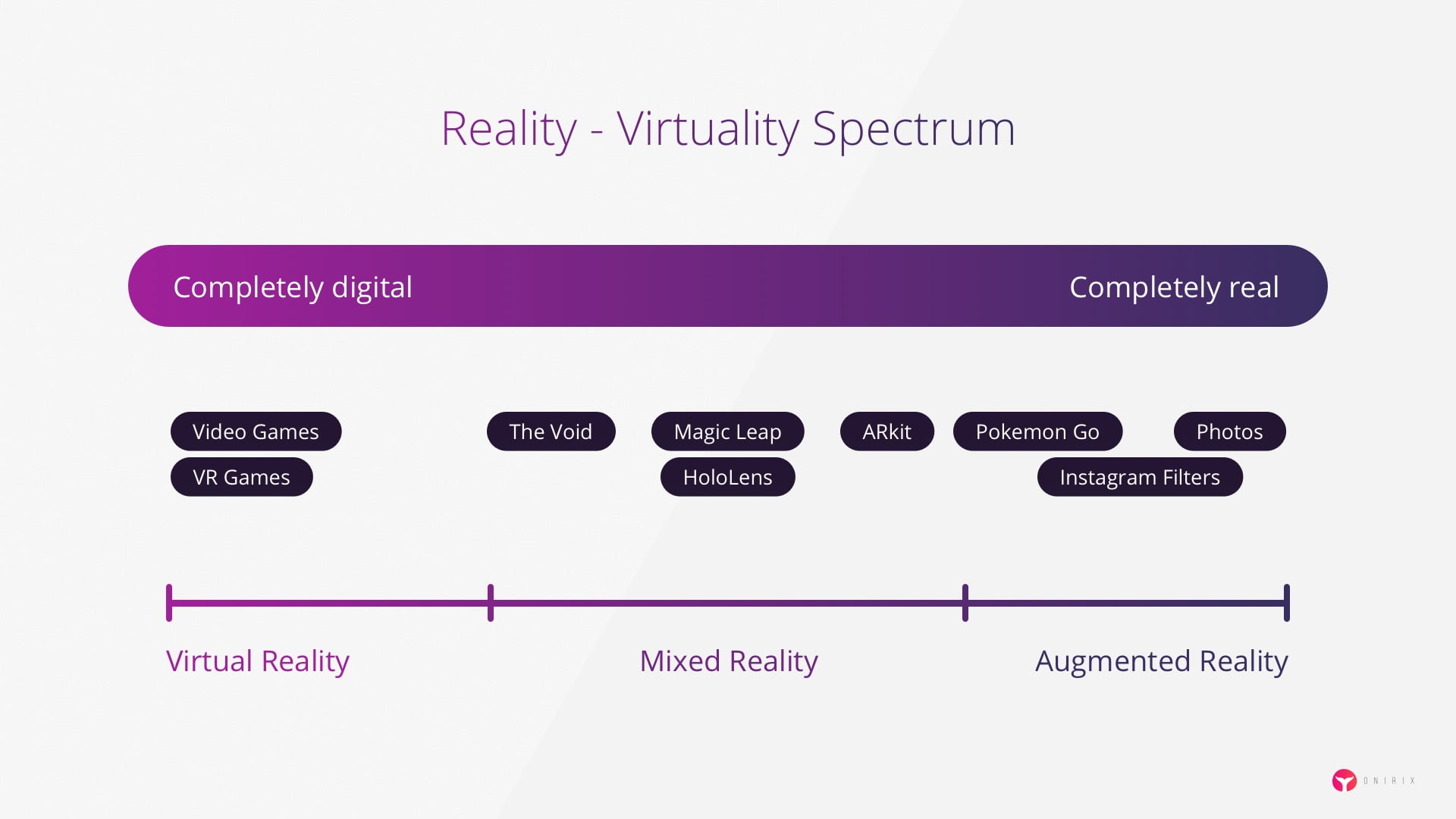 Augmented Reality
Augmented reality (AR) is a technology that overlays digital information onto the user's real-world environment, enhancing their perception of reality. This can be achieved through the use of devices such as smartphones, tablets, or specialized AR glasses. Users can experience AR through various applications, including gaming, education, and navigation. The technology combines the physical world with virtual elements, providing an augmented experience without isolating users from their surroundings. Examples of AR applications include Pokemon GO and Snapchat filters.
Virtual Reality
Virtual reality (VR) is a technology that immerses users in a fully computer-generated environment, disconnecting them from the physical world. To experience VR, users typically wear a headset with a display that covers their field of vision. Advanced VR systems also incorporate hand controllers and tracking sensors for a more interactive and immersive experience. VR has applications in various industries, such as gaming, therapy, and training simulations. Some popular VR devices include Oculus Rift and HTC Vive.
Mixed Reality
Mixed reality (MR), also referred to as hybrid reality or mediated reality, is a blend of AR and VR technologies. It combines aspects of both virtual and real-world environments, enabling users to interact with digital content and the physical world simultaneously. Mixed reality can be experienced through devices such as Microsoft HoloLens and Magic Leap One. MR technology has close ties to immersive experiences in industries like gaming, education, and healthcare It allows users to manipulate virtual objects and collaborate with others in a combined digital-physical space. Some applications of MR include remote assistance, architectural design, and entertainment.
Applications of Extended Reality
Gaming
Extended Reality (XR) has had a significant impact on the gaming industry, providing players with an immersive and interactive experience. Games like Pokémon Go have combined augmented reality with real-world environments, while VR headset games such as Beat Saber and Oculus Rift exclusives draw players into the virtual world. The use of head-mounted displays like the Oculus Quest 2 allows gamers to experience 3D environments, enhancing their gaming experience.
Healthcare
The healthcare industry has started to incorporate extended reality technologies, offering new opportunities for training and patient treatment. Medical professionals use virtual reality to simulate surgeries and other procedures for more effective training. Additionally, therapies employing VR or AR can help patients suffering from psychological disorders like PTSD by exposing them to controlled immersive environments.
Education
Educational institutions have started to adopt extended reality to improve learning outcomes. Using Microsoft HoloLens, students can interact with 3D models in a mixed reality environment. This type of immersive learning experience helps students better understand complex subjects and retain information more effectively.
Sports
In the world of sports, extended reality technologies are increasingly being used for training and performance enhancement. Virtual production techniques enable athletes to practice in a simulated environment, providing them with real-time feedback and data analysis. Simultaneously, immersive experiences like virtual stadiums give fans a new way to engage with their favorite teams.
Real Estate
The real estate industry has found numerous applications for extended reality. Virtual walk-throughs of properties allow potential buyers to explore homes without physically being present. Additionally, real estate agents can utilize augmented reality tools to show clients how properties can be renovated or customized, making it easier for buyers to visualize their future homes.
Retail
The retail sector has begun to implement extended reality in various ways. Virtual shopping experiences enable customers to interact with products in 3D, providing a more immersive experience compared to traditional e-commerce platforms. Additionally, AR technologies can guide customers through brick-and-mortar stores, directing them to specific products and providing relevant information-¡.
Manufacturing
Manufacturing industries are increasingly adopting extended reality to streamline processes and improve efficiency. By using VR and AR technologies, engineers can visualize product designs and make necessary adjustments before production. Simultaneously, XR can be utilized to train factory workers, reducing the risk of accidents and promoting more efficient workflows9.
Web AR Functionalities
Web-based Augmented Reality (Web AR) offers various functionalities to create immersive and interactive experiences.
Image
Image-based tracking in Web AR allows users to anchor virtual elements to real-world images. This feature enables the augmentation of printed materials, such as posters, packaging, and magazines, creating interactive experiences. Some popular Web AR frameworks, such as AR.js, make it easy for developers to implement image-based tracking across platforms.
Surface-SLAM
Surface-SLAM (Simultaneous Localization and Mapping) refers to the process of mapping the environment and tracking the user's position simultaneously. In Web AR, this functionality can be utilized to create more realistic and engaging experiences. It allows virtual objects to be placed on real-world surfaces, adapting to the environment and user interaction. Although Web AR currently offers limited support compared to app-based AR for this functionality, it is expected to improve as the technology matures.
Location
Location-based Web AR utilizes GPS, Wi-Fi, and other data sources to determine the user's position in the real world. This information allows developers to create geolocation-based experiences that react to the user's location. For example, virtual guides, interactive maps, or location-based games can rely on this functionality to enhance engagement and immersion in the augmented environment. WebXR is a standardized technology that combines AR and VR experiences for web browsers and supports location-based Web AR as well.
Spatial
Spatial mapping in Web AR creates a digital representation of the user's surroundings, enabling virtual content to interact and adapt to the real world in a convincing manner. This feature provides better immersion and a more natural user experience. Although spatial functionality in Web AR is currently limited compared to app-based AR, it is expected that future advancements in technology will enhance this aspect of WebAR, further blurring the line between the digital and physical worlds.
The Future of Extended Reality
5G and Extended Reality
The advent of 5G technology is expected to be a game-changer for Extended Reality (XR) applications. With significantly faster data transfer speeds and reduced latency compared to 4G, 5G enables seamless, real-time interactions in XR environments. As a result, this will enhance the overall user experience by reducing motion sickness and improving the quality of virtual and augmented reality content.
Additionally, 5G's ability to handle large amounts of data allows for the integration of sophisticated XR elements, such as real-time 3D rendering, artificial intelligence, and advanced simulations. These improvements will pave the way for innovative XR applications across various sectors, including healthcare, education, and entertainment.
Digital Twins and Extended Reality
Digital twins play a crucial role in the future of Extended Reality 8, as they allow for accurate simulations and monitoring of real-world scenarios in virtual environments. By combining the power of XR with digital twin technology, industries can create immersive, interactive 3D representations of physical assets, systems, and processes.
For instance, in manufacturing, XR and digital twins can be used to optimize production lines, troubleshoot equipment problems, and provide remote training for employees. In the context of urban planning, city developers can leverage XR to visualize and interact with digital replicas of their infrastructure, leading to better decision-making and increased efficiency.
In conclusion, the future of Extended Reality is closely tied to the advancements in 5G and digital twin technologies. By harnessing their respective capabilities, we can expect to witness a more interconnected, immersive, and realistic XR experience across various domains.
Key Hardware in Extended Reality
Headsets
Extended Reality (XR) headsets are an essential part of immersive experiences, as they enable users to explore virtual environments and interact with digital content. There are various types of XR headsets, ranging from those designed for Virtual Reality (VR) to those geared towards Augmented Reality (AR) or Mixed Reality (MR) experiences.
VR headsets, like the Oculus Rift or HTC Vive, typically fully enclose the user's face and completely block out the real world around them. These headsets offer a 360-degree immersive experience and require sensors or cameras to track user's movements. In contrast, AR headsets such as the Microsoft HoloLens, overlay digital content onto the user's real-world view, allowing them to interact with virtual objects and access information while maintaining awareness of their surroundings.
Smartglasses
Smartglasses are another crucial piece of hardware in the extended reality ecosystem. These devices often look like regular eyewear but are equipped with various sensors, cameras, and displays that enable users to access AR applications and information on the go. Some smartglasses, like Google Glass, are primarily targeted at enterprise use cases, while others, like the Nreal Light, aim to bring AR experiences to consumers.
AR smartglasses usually have a more compact form factor than XR headsets, making them more suitable for everyday use. These devices are connected to a user's phone or dedicated processing unit, which powers the AR experiences. In contrast to larger XR headsets, smartglasses generally have smaller displays and offer a more limited field of view.
Extended reality experiences rely heavily on the capabilities of headsets and smartglasses, providing users with immersive and interactive content that combines digital and real-world elements. As technology advances, we can expect continued innovation in these key hardware components, further enhancing the potential of XR applications.
Challenges and Limitations of Extended Reality
Although XR provides various advancements, it comes with its set of challenges and limitations.
Legal concerns often arise when technology advances faster than legal systems can cope with. Regulators and lawmakers struggle to keep up with rapid innovations in XR, resulting in a lack of clear-cut regulations and guidelines to govern its use 9.
Hardware limitations also pose a problem. The high cost of XR headsets and devices may prevent widespread adoption. Moreover, the hardware often requires significant computational power, draining the battery life of phones and other portable devices quickly.
Privacy and security issues are yet another challenge surrounding XR. As these immersive technologies collect and store sensitive user data, including spatial, biometric, and behavioral information, they become prime targets for security breaches and unauthorized access 10.
Health and safety concerns manifest in various ways when dealing with XR technology. Prolonged use of headsets may lead to discomfort, nausea, or even physical injuries such as "VR neck." Users may also become disoriented and bump into real-world objects, posing physical risks 11.
Additionally, XR technologies often face implementation and adoption barriers. Integrating these technologies into existing workflows in various industries like HR and training can be challenging and time-consuming12.
Finally, the skepticism and resistance towards XR are noteworthy. Many people still doubt the value of AR, VR, and MR technologies and question their effectiveness compared to traditional methods. This resistance prevents rapid adoption of XR technologies13.
Overall, although Extended Reality offers valuable opportunities for various applications, it faces numerous challenges and limitations that require further research and development.
How is extended reality used in education?
Extended reality (XR) is increasingly being integrated into educational settings to enhance learning, engagement, and collaboration. Applications of XR in education include virtual field trips, immersive simulations, and interactive lessons that allow students to explore subjects in a more engaging and hands-on manner. By leveraging technologies such as AR, VR, and MR, XR in education can help students grasp complex concepts, develop problem-solving skills, and experience real-world scenarios in a safe and controlled environment.
What are some advantages of extended reality?
Extended reality offers numerous advantages, such as providing immersive and interactive experiences that can enhance learning, training, and entertainment. With XR, users can experience simulated environments, interact with digital objects, and gain new perspectives. Additionally, extended reality can promote collaboration, increase accessibility, and offer personalization options to cater to individual needs and preferences. In industries such as healthcare, architecture, and manufacturing, XR can also improve efficiency and reduce costs by enabling virtual simulations and prototyping.
What is the history of extended reality?
The concept of extended reality can be traced back to the development of virtual reality (VR) and augmented reality (AR) technologies in the 20th century. Early attempts to create immersive experiences involved innovations such as the Sensorama (1957) and the first head-mounted display (HMD) called The Sword of Damocles (1968). The term "extended reality" (XR) was coined later to encompass various immersive technologies including VR, AR, and mixed reality (MR). The evolution of XR is marked by the continuous advancements in computer graphics, hardware, sensing technology, and the development of more user-friendly interfaces.
How do AR, VR, and MR differ?
AR, VR, and MR are three distinct types of immersive technologies that fall under the extended reality (XR) umbrella. Virtual reality (VR) fully immerses users in a completely digital environment, blocking out the real world. Augmented reality (AR) overlays digital elements onto the user's physical environment, which remains visible. Mixed reality (MR) combines aspects of both VR and AR, allowing users to interact with both physical and digital objects in real-time.
Can you provide examples of extended reality applications?
There are diverse applications of extended reality across various industries. In healthcare, XR can be used for training, surgical simulations, and remote consultations. In manufacturing and construction, XR enables virtual prototyping, collaboration, and remote equipment monitoring. Entertainment and gaming industries utilize XR to create immersive experiences, such as interactive theme park attractions and virtual concerts. Additionally, XR is employed in advertising, retail, and real estate for engaging product visualizations, virtual try-ons, and interactive property tours.
Where can I find extended reality courses?
Numerous online platforms and educational institutions offer courses and resources to learn about extended reality. Websites such as Coursera, Udacity, and edX provide a variety of curated courses on XR development and design, encompassing virtual, augmented, and mixed reality. Furthermore, some universities and e-learning platforms offer specialized certificates and degree programs dedicated to the study of XR technologies, including software development, user experience design, and related areas.
Footnotes