Geolocated augmented reality: the new GPS experiences
Geolocated augmented reality (a.k.a. location-based AR) is one of the concepts that has had more boom around this technology, especially since the appearance of the Pokemon Go game, back in 2016. This phenomenon helped put augmented reality on the map, never better said, since from that moment and massively, the general public began to relate AR with a concept, a global brand that was already familiar to them.
And this game is just one of the most demanded uses of AR: GPS treasure hunts also known as scavenger hunts. For these experiences to make sense, it is not enough to simply make the user move to a place. The key is that once they are in a specific location, they can interact with their immediate environment through AR, and with this interaction they can win prizes, collect items and advance in the game universe.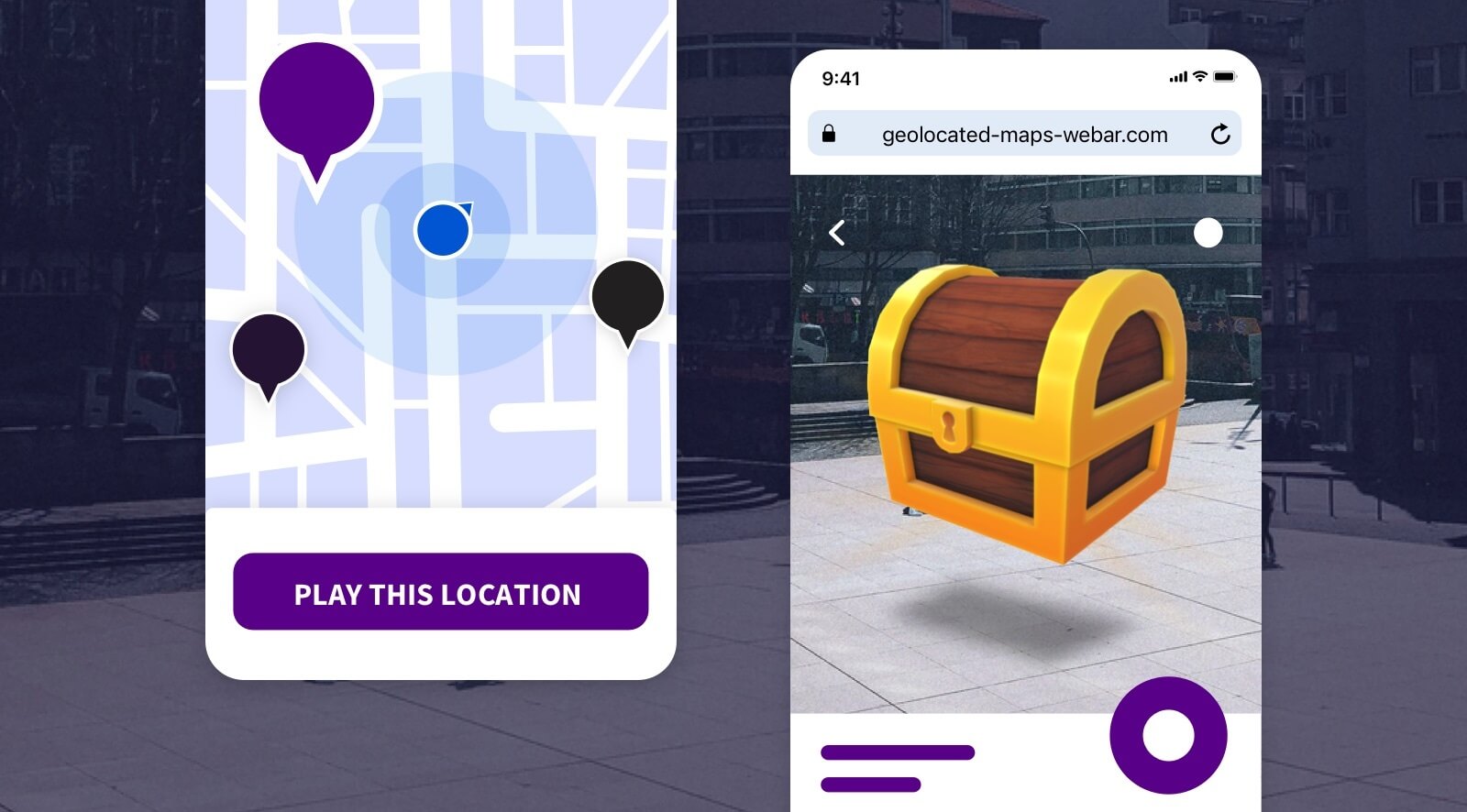 However, AR based on geolocation has many other uses, as we will see below. It is due to this combination of technologies, GPS and AR, that experiences can be generated where the user, in a visual way, obtains relevant information that depends on his position. In tourism, culture, experiential marketing, gamification or even in experiences related to industrial or logistics sectors, many benefits can be obtained thanks to the inclusion of AR as part of the user experience.
What is location-based augmented reality?
This is any type of AR experience where the content makes sense based on the user's GPS location. That is, any experience that can be based on a user's GPS position (the same signal that Google Maps relies on to locate us), to which an extra visual layer of augmented reality is added.
For example, imagine that you stand in front of the Colosseum in Rome, and, by pointing your phone's camera, you get relevant information about each of the parts that make up this iconic construction.
This would be an example of geopositioned augmented reality. However, using the same example, imagine you are in front of the Colosseum but an AR experience provides you with information about the Eiffel Tower; what would make sense to you as a user? Context is a key part of localized AR experiences, and part of that context is provided by the user's GPS position.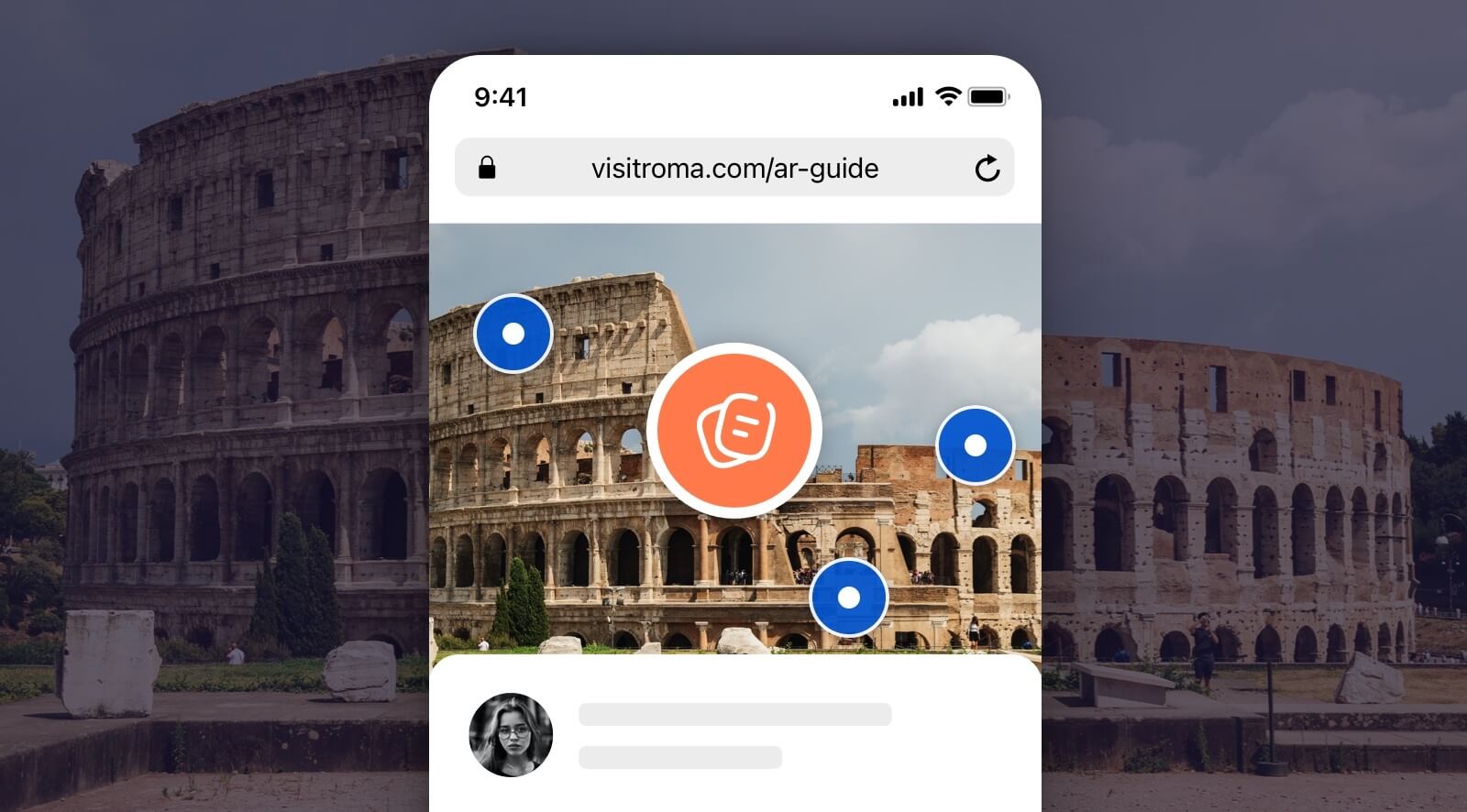 The combination of these two factors makes the experience a very powerful weapon for both brands or content generators, as well as for the end user.
Simultaneous GPS and AR experiences, yes or no?
There are two main types of location-based AR experiences: when the GPS signal and AR through the camera are consumed simultaneously, and when they are not. In the case of Pokemon or any other scavenger hunt type game, we would be talking about the second scenario, i.e. non-simultaneous.
The dynamic always starts with a process of guiding the user to a location using navigation experiences and, once there, the user is shown the AR content so that he can interact with his environment. In this case the Pokemon he can hunt.
Simultaneous mode could be brought up with an example of an experience where a user can see the apartments for rent on a particular street. In this case, from any point on the street, the user can open an AR experience and, through the camera, check what available apartments are around them. It is essential that the experience, while displaying the AR, is getting in real time the GPS signal to display it accurately.
The main problem with simultaneous experiences is none other than GPS (Global Positioning System) error. Nowadays, with the existing navigation system (set of satellites orbiting around the Earth that allow triangulating the position of our mobile device in real time), there is an error, in ideal conditions, of about 5 to 10 meters. This error means that the simultaneous signal experiences (camera and GPS) are not entirely accurate, nor is the user experience entirely desirable.
Uses and examples of augmented reality location
Google Maps and its AR viewer
Google is trying to solve this problem mentioned in the previous point, adding augmented reality in Google maps, by means of an extra correction layer to this type of experiences: vision-based positioning.
The idea is to combine the GPS signal on the one hand, and the detection and recognition of the visual elements around us, on the other, to position the user's device with total precision. Google starts from its visual knowledge base, built up over the years through its Google Street View functionality.
It can be said that they have a great advantage in this aspect, because they have the resources for it, but it is not a standard way to use this combination of technologies. Moreover, this mode depends on their AR libraries installed on Android terminals: ARCore. That is, this is not valid for use in web environments.
Is there life beyond Google and GPS?
There may be little time left to have an error-free, or very low error, positioning system. For years, ESA has been working on its Galileo project, adding satellites for more than a decade and which is expected to be fully operational in 2024. 
Until this becomes a reality and most mobile terminals have sensors capable of communicating with Galileo, the general solution seems to work in combination with the GPS signal and the camera in a non-simultaneous mode. This mode enables geolocated augmented reality experiences in many different areas.
For now the key is to focus on a good user experience and, by combining the different elements discussed here, along with the concept of being able to consume these experiences on the web (web AR), you can generate high quality and useful content for the end user.
Treasure hunt with web AR: types and options
We already advanced at the beginning of this post that the treasure hunt concept had been very relevant in the adoption of this technology for outdoor experiences. Let's see below what types of treasure hunts are and what other types can be applied to any business or campaign:
Geo game: treasure hunts
This is the one already mentioned and to which the Pokemon hunting game belongs. The dynamics of this type of experience basically consists of making the user move through different locations with the objective of obtaining rewards for a prize or a bigger goal.
It can be hunting for points to get a discount, playing dynamic games in different locations, or even just moving around in a specific time, for example, if the gamification is about promoting exercise and healthy living.
They are a very powerful weapon for marketing agencies looking to carry out campaigns with certain engagement, recruitment processes, or, for example, to lead potential buyers to new establishments.
Here you can find a complete and documented example to create your own online geo game in web AR.
Treasure hunts: find QR codes
Following the worldwide pandemic in 2020, the public has become increasingly accustomed to the use of QR codes in many aspects of their daily lives.
A technique widely used to shape this type of hunting games or search for clues is to hide QR codes in different parts of a recreational space: shopping mall, conference room, hotel, events, etc.. It is an interesting claim to be able to launch in different areas of a larger space, small tests, puzzles, or games, which complement a complete user experience.
In Onirix we have documented examples where we show the step by step creation to generate a complete experience of this style, including the user registration process, and associated scoring system.
Follow the clues: the treasure behind the images
Last but not least, another way to get the user to embark on such an experience is to search for images to complete a collection. In this way, the user is able to complete a series of tests or missions in a specific environment without the specific need to use GPS, as in the case of QR codes.
With an image detection and recognition system we can create complete real life treasure hunts like this, giving each of these images a unique identity, a specific mission or an associated score. The possibilities are countless, as many as the creativity of the professionals who shape each project.