Storytelling with Augmented Reality
There is something about stories that hasn't changed since humans evolved to use language: a good story creates a personal connection, takes you on a journey and most importantly, inspires action. These fundamental aspects of stories haven't changed even though storytelling today is not only reserved for groups sitting around a campfire.

The art of storytelling is practiced by artists but its power is also being utilized as one of the main concepts of modern marketing.

The tools of storytelling have also evolved over time. We went from the spoken word to books to movies to enhancing our reality with AR (Augmented Reality). The immersive character of Augmented Reality makes it the perfect vehicle to tell your story in 3D and have your audience dive into it.
In this article, I will take a look at the more technical side of AR storytelling. I will refer to AR stories as scenes, as stories are usually made up of multiple AR scenes.
The three components of an AR story
In most cases, an AR scene consists of three main components. These are

Assets – all visible and invisible components that create the story
User Interactions
the Environment of the user
We will take at look at all of these components in detail.
Assets
Assets are all the elements of an AR scene that help you tell your story. Those can be 2D and 3D models, audio files or even videos.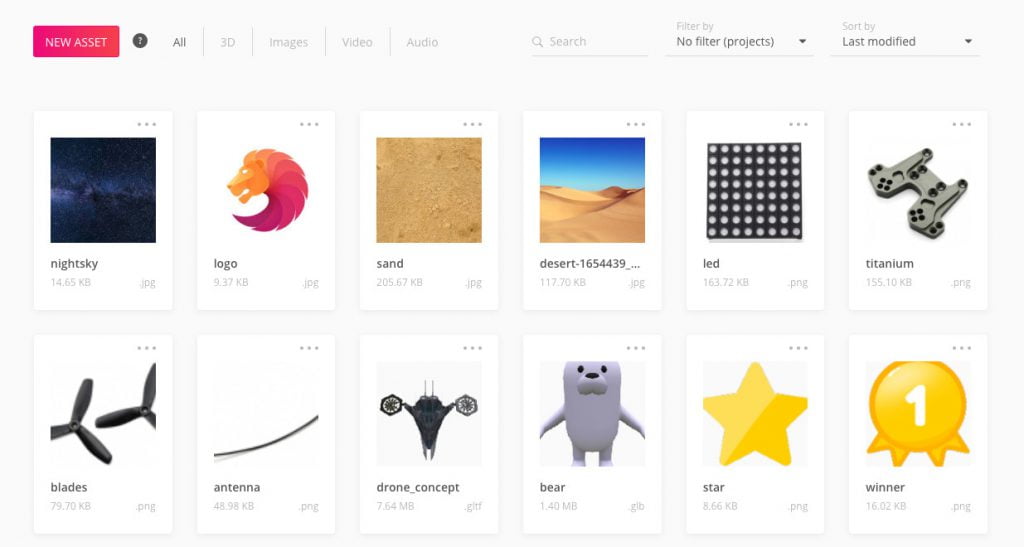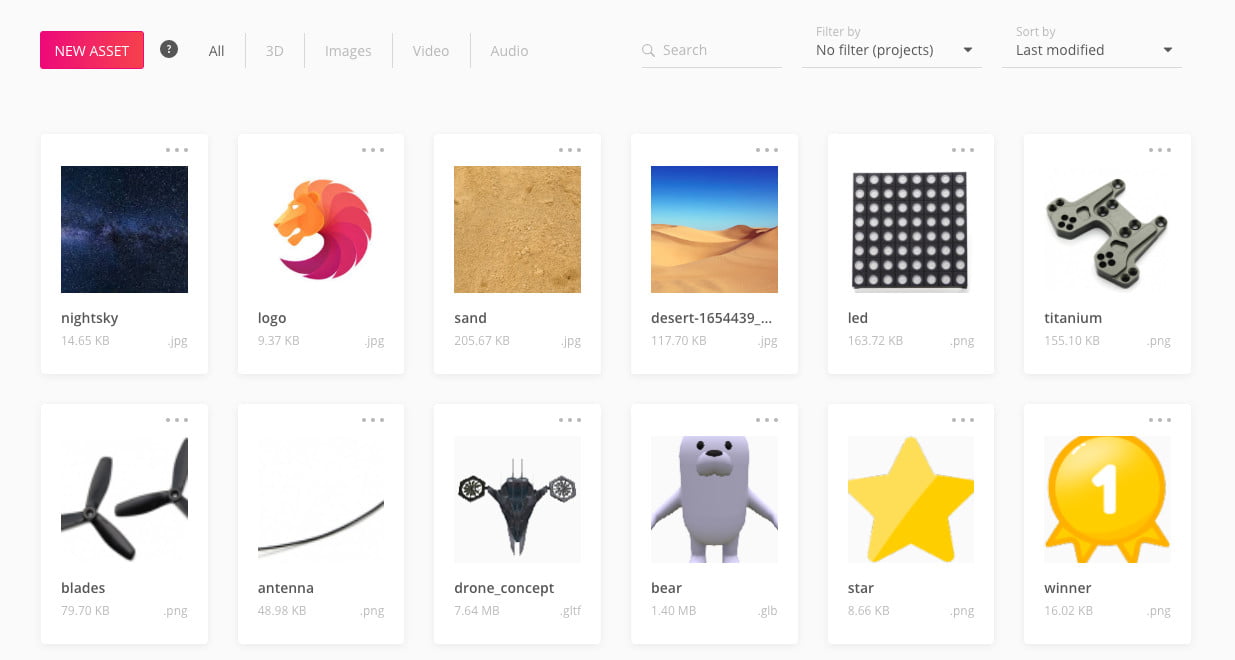 We found that 3D models have the biggest effect on the experience when being used in combination with audio. Combining a 3D model of an island with the gentle sound of soothing waves crashing on the beach and some tender cords played on a ukulele will fundamentally change the experience of your users.

In case you are not a 3D designer, here are some common websites for sourcing 3D models:

Audio, crucial to creating user emotions inside your scene, should be high on your list of assets as well. Like with any type of asset you are using for mobile AR stories, keep in mind to keep the file size as small as possible to ensure fast downloads and a friction-free user experience.
Audio assets can be found on platforms like Premium Beats and Audioblocks.

2D assets though less spectacular than 3D assets are the bread and butter of any good AR scene. These assets are everything from colors, fonts, images, and videos that set the mood and the aesthetics of the scene. A good source for colors is Adobe Color, images can be found on platforms like Fotolia. Fonts can be found on Font Squirrel.

Another type of important 2D asset are icons. They help to reduce the amount of text in a scene and simplify the user experience. They might also take the language barrier away if you are designing your story for an international audience.

A few final words on assets. When designing AR scenes, consider that not every user is going to use the latest device and the fastest internet connection available. Be mindful about the size of your scenes and rather work with low poly models and focus on great user experience than on highly realistic elements in your scenes.

Interactions
When designing anything that is virtual, user interactions are always key to the experience. AR stories are no exception. The beauty of AR is that we are inviting the user into a 3-dimensional world, which opens the door to a whole lot of different interactions than we are used to in our usual 2-dimensional virtual presence.

Interactions can be roughly subdivided into active and passive. Somewhere in between interactions, we have animations.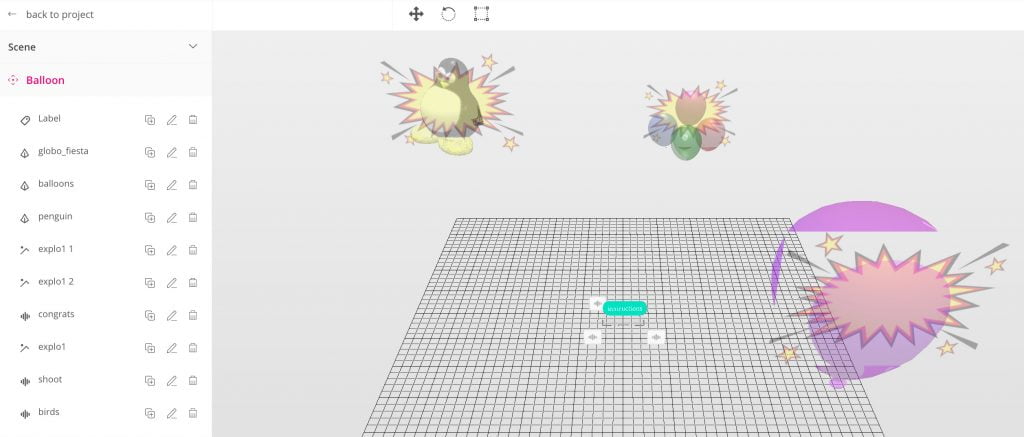 Active interactions are for example a tap on an object that triggers an action. This type of interaction gives the user a choice and encourage them to engage with the scene.

Passive interactions are actions that are triggered through the proximity to an object or simply through the passage of time. To the user, those are experienced as an element of surprise, as those are usually triggered unconsciously.

Animations are usually triggered by interactions, are a great tool to keep the attention of the user high. Rewarding users for interactions is another good approach to keep the excitement level high.

We always recommend using a combination of active and passive interactions when designing a scene to create a more immersive user experience.

Environment
AR stories take place in the real world of the user. This is why considering the so-called world layer is so important. Is your scene taking place on a simple surface like a table or does it require a certain amount of space? Working with room-scaled objects allow the user the get drawn right into the scene, while smaller objects let the user take the role of an observer.
Enhance paper books with AR
AR-enhanced books are on the rise, especially for children. And this is for a good reason. Supplement a good story in a book or e-book with AR will leave a lasting impression. AR allows the reader to stop being passive and offers a window into the story. Users can interact with the story or even become part of it. This makes the traditional book more stimulating and rewarding as it triggers a whole new set of emotions.

The AR content of a book is usually made available by scanning an image or a QR code with the camera of a mobile device (e.g. a smartphone or tablet).

AR storytelling in marketing
Storytelling has become something like the secret star of all things marketing. As people are not susceptible to sales promises and slogans anymore and are rather looking for ways to identify themselves with a brand, storytelling has become the universal answer.

Telling immersive stories will AR and taking users on an adventure will deepening the connection users have with a product or service.
Try an interactive AR story yourself
If you got inspired to start with AR storytelling, I recommend you try out the story we have created below.

Bright side story
Small interactive story with sounds and 3D models. Enjoy this experience on any surface around you!