5 benefits of augmented reality for marketing agencies, advertising and brands
Creative agencies and media agencies, in many cases combined in terms of integrated digital creation and dissemination services, try to find solutions that respond to the objectives and indicators in campaigns or brand actions.
The world of marketing and advertising works at the service of brands and advertisers with the aim of being innovative and creative in order to capture the attention of the end consumer.
Here are 5 reasons why you should implement web AR in your agency's customer strategies.
1. Lead generation and behavioural data
Web AR opens up new opportunities for the generation of qualitative and actionable data for brands and organisations. There are several options that can be considered in order to guarantee an amazing user experience.
Advertising consumption has changed paradigm and is increasingly atomised, we have always spoken of traditional media (TV, Radio, Press) but due to their maturity we can now refer to the term traditional digital media that make up search, social media or display itself.
The volume of investment in digital is growing and increasingly represents more and more of the total absolute investment, as we can see in the data presented by the IAB in Spain. Advertising pressure is growing in digital and over the last few years this has also been accompanied by significant growth in terms of costs, reflected in metrics known to all such as CPMs, CPCs, CPAs, CPLs.
There is the possibility of opening new paths by betting on creativity, own media and innovation. Creativity is a medium with great persuasive power that allows us to design actions focused on attraction with great persuasive power. Working experiences in our own media (web) allows us to capitalise on the data from the root, with the expected changes regarding the loss of third party data, it will be increasingly interesting to bet on it.
Investing in creativity based on web AR and activated under our own media as a recruitment strategy is a step towards innovation and becomes a great opportunity to generate high quality leads with really low costs.
Here we can see an example of how using a web AR based video game served to capture thousands of leads while customers were waiting for their burger to be ready – Goiko Burger X NowarLab.
2. Dwell time and brand relationship
In web design we have always aspired to a maxim that indicates the success of the user experience, we are talking about the time spent on the page or the bounce rate that is generated when the content is not of interest to the user.
The Web AR favours very positively the impact of a marketing action thanks to the impulse that it generates in some of the key metrics for measuring the relationship with our client on the web. As an agency it is important to strengthen the brand/customer relationship because of the advantages we can obtain in the long term; developing strategies based on the relationship will guarantee a very positive feeling of belonging. Some of the keys that allow us to build these relationships are based on long-term strategies, on creativity as a disruptive medium or on emotional aspects that allow us to connect with the user's feelings.
3. Engagement and interaction with the user
Augmented reality allows the creation of a new communication channel between brand and audience. It is an interactive channel, where the end consumer can carry out actions related to their environment, with what is in front of them, obtaining contextualised and relevant information from what is within their reach.
If we place products in front of the user, through augmented reality we can invite them to take the next step in their relationship with the brand, we open the door to discovery. Everyone has a mobile phone in their pocket, and therefore an AR tool ready to be used.
When we talk about engagement rate we are referring to the percentage of people who have actively participated in the campaign in some way, counting likes, shares and comments on social networks has always served to obtain its calculation and now we can push this type of metrics from AR experiences obtaining above average participation rates.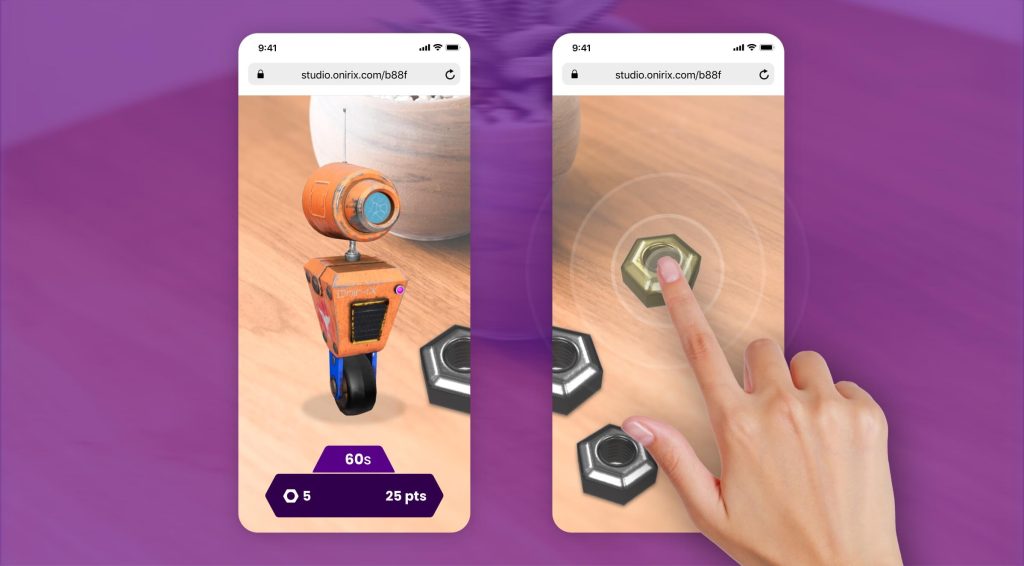 4. Audience rejuvenation
The purpose of a brand is always to try to be relevant to consumers, it is important to keep up to date and spend time understanding and assessing what strategies will allow us to capitalise on the audiences of the future. As marketers we must have a continuous improvement mindset focused on these new generations, which mainly addresses the way in which they consume content.
In this sense, augmented reality web gives us the ability to offer experiences that respond to what they do not expect, a disruptive breakthrough in the way we communicate that guarantees reasons to believe in it. There is a strong relationship between web AR experiences and video games, we are talking about new digital formats that are composed of 3D shapes and that offer different interactive mechanics that lead us to think about experiences related to gamification and entertainment.
Another important point to highlight is accessibility as web AR runs 100% on mobile and this guarantees a very high percentage of users have the possibility to experience it.
5. Consideration and sales conversions
Augmented reality has the capacity to improve the user experience by presenting the product online, which favours a differential increase in the understanding and comprehension of the product. Knowing the product, the alternatives or solutions it offers from the moment it is presented provides a great deal of credibility and consideration for the purchase.
It is also important to highlight a very positive consequence offered by the purchasing process through web AR, and that is that thanks to augmented reality experiences, the rate of returns and returns to the shop can be considerably reduced, generating significant logistical savings.
Technologies such as Onirix can be a boost in the achievement of metrics for the business and provide us with new weapons to conquer the user of the future throughout the customer journey.