7 Advantages of augmented reality in business
Every day, more and more companies are including the concept of AR in their vocabulary and, above all, contemplating its use due to its growing demand. Although they are beginning to be aware of the impact that this technology generates in their value chain, every day more and more businesses are interested in knowing what its possibilities are, in which sectors it can be applied and how to do it in order to adapt it to the needs of each company.
That is why we are going to highlight in this post the 7 main advantages of augmented reality in businesses. As we have already seen in other posts, this technology opens the door to a business opportunity that goes beyond pure entertainment.
1. AR as a transversal technology: applicable to a multitude of sectors
Many people identify augmented reality with video games, among other reasons, because of the huge success of Pokémon Go. Another motive for which it is often associated with the entertainment sector is because of the confusion it generates with respect to technologies such as virtual reality, which is much more oriented towards this type of activity, but they are not the same, in fact they have many points that separate them. If you want to know more about this issue, we invite you to read our post about the differences between AR and VR.
It is also true that augmented reality can be used as another entertainment mechanism, developing games that can mix the virtual world with the world around us, as in the case of Escape Rooms, which combine invisible and/or virtual content.
Any sector where a user, customer, visitor or worker can be given indications to carry out a specific action, and even to do it in less time, is susceptible to being improved with this technology. Let's think of tourism, where we can guide a visitor through the points of interest in our city; in culture and art, where we can guide a person to the next work in an exhibition and indicate information about it.
Now let's think about an operator who has to carry out maintenance or repair work on different highly complex equipment. Through AR, it could indicate the components that need to be checked, not only in a motor or an electrical cabinet, but in a complete installation. In this way, the operator will immediately identify the tasks to be performed in the shortest possible time. This makes the tasks much more efficient and effective.
Automotive, aeronautics, civil engineering, industrial design, architecture, medicine… and a long etcetera, are the sectors where an improvement based on augmented or mixed reality could be applied in some of its many use cases.
3. Training with AR: learn better, learn faster
It has been shown that the learning process can be much more effective if it is done in a fun, entertaining way or in a way where the object of study in question can be clearly visualised.
For example, in primary or secondary education, students could learn the anatomy of the human body represented on a real scale, as augmented reality allows the identification of each part of the body.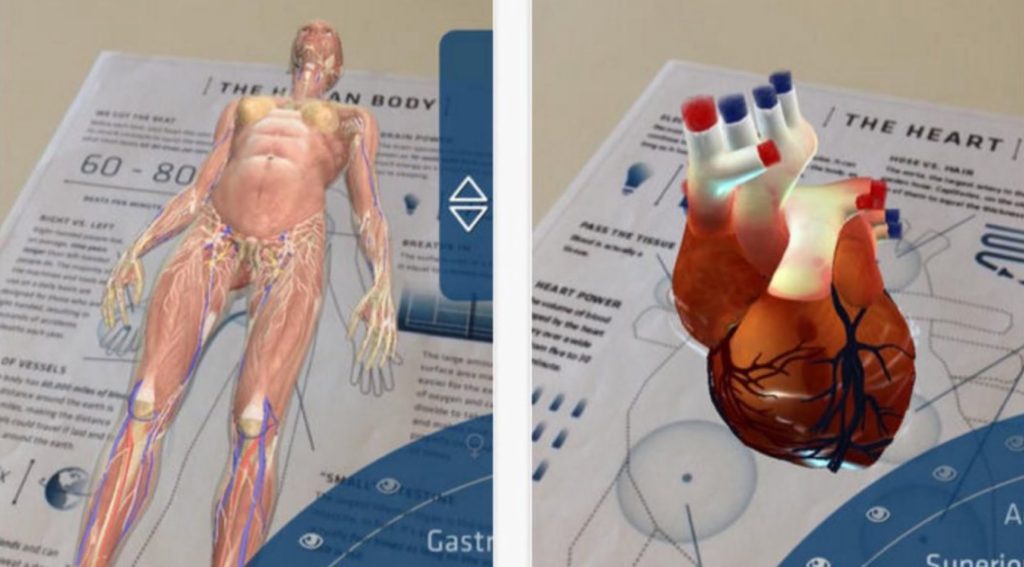 Continuing with more learning examples, in electrical vocational training, the components of an electrical panel could be identified. The user would recognise each part of the electrical installation. In the training of car experts, each of the parts that should be checked in a vehicle would be shown. Or even in the field of aircraft construction, the details of an aeroplane engine or the identification of parts of the assembly line could be visualised.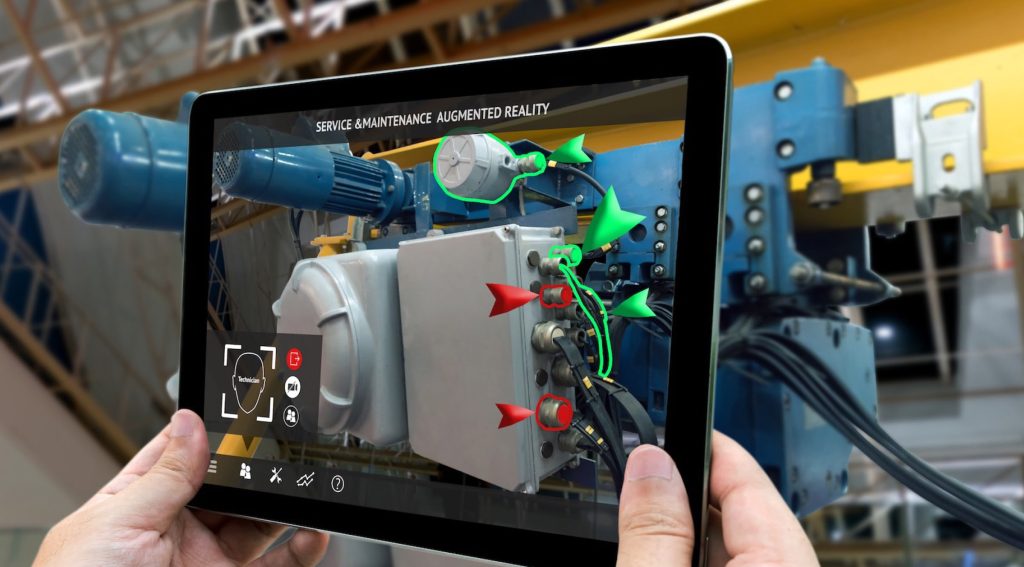 In any company or business there are training processes. These can be simpler or more complex, but it is clear that they are part of the evolution of any worker throughout their professional career. Thanks to augmented reality, it is possible to do things such as:
Identify the different components of any possible scenario.
Include check-lists or guided steps to do a task.
Include questions from an exam or training process related to the relevant element of the question.
Save time and optimise processes.
Reduce risks.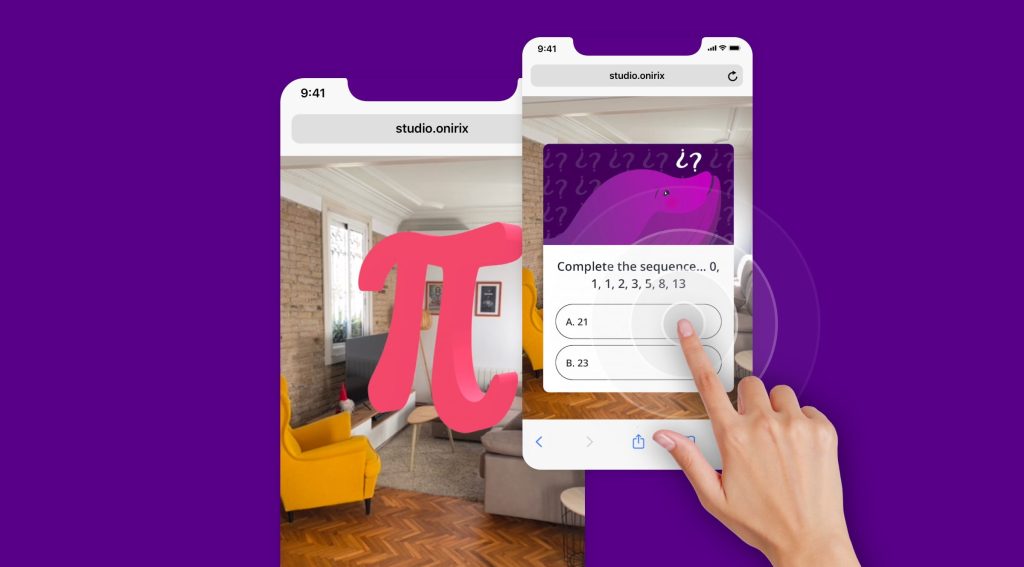 4. Information, location and accessibility
Through indoor guidance, you can make it easier for users to walk around the installations without getting lost, offering the information they need instantly. In other words, you can exponentially improve the user experience and also take them where you want to go in an attractive and interactive way.
A lot of businesses can benefit from offering this type of precise and visual guidance inside their facilities: museums, shopping centres, factories, supermarkets, airports, etc.
There are several advantages of augmented reality guidance that can be applied in various businesses. One of them is that it helps to provide greater safety in enclosed spaces when evacuation routes are implemented.AR in businesses also serves as an inclusion system, providing information to disadvantaged groups with disabilities when accessible guidance is included.
5. Reduce costs and optimise tasks and processes
There are a multitude of tasks that are performed day after day in many companies that could easily be optimised by the inclusion of some technological solutions.
In big projects such as the installation of photovoltaic plants or the construction of large surfaces or establishments, workers will find the exact location where they have to perform their tasks. Once there, the tasks to be tackled will be displayed using the augmented reality application. It allows to make a check-list of the tasks that can be visualised in real time. This, as one of the benefits, results in cost reduction.
Consider a logistics warehouse. Approximately the cost of warehouse operations represents up to 20% of all logistics costs. On the other hand, picking (picking items off the shelves) represents up to 65% of the cost of warehousing. Most of the workers in these warehouses consult this information on a paper list. This method is slow and inefficient and could be optimised through augmented reality.
Visual detection of this type of information in an immediate way is a kind of shortcut to get the job done. AR provides a mechanism for shaping such shortcuts by embedding visual layers of information in the work environment.
6. Comunicación y marketing experiencial
Augmented reality represents a new bidirectional communication channel with your customers, visitors or consumers. Technological solutions can be generated that allow the user to interact in real time with the information that surrounds them and, therefore, establish a high-value communication between product and customer.
AR uses the real physical environment to include it in the final user experience. That is why it is really useful to generate specific actions on the ground, making use of the physical capabilities of the elements that surround the user: walls, floor, furniture, signs, stairs, etc.
This is why augmented reality can be used to create surprising experiential marketing campaigns, to provide immediate information about any product around us; or even to improve the sales techniques and possibilities of our commercial staff.
If you are interested in including AR in the marketing world, we recommend you to read this post about augmented reality and marketing and the new digital advertising models where we deepen in all the benefits of this technology in the sector and we share statistics and examples. Some of the outstanding advantages are:
Generate more leads and improve conversion rates.
Increases engagement
Improves NPS
Reinforces brand positioning and builds trust
Differential value
6. Increased sales
Through augmented reality, potential customers can interact with each product, spending more time in shops. It is estimated that at least half of them are willing to pay more if they can preview what they are going to buy. This saves consumers time and shortens their decision period, as well as generating brand engagement. In fact, according to a study by American marketing consultancy Invesp, 45% of customers say that AR features save them time when making a purchase decision.
AR also enables the inclusion and personalisation of the information displayed to each customer. The price or features of each product are some of the information that can be interactively included in an AR experience. In this way, the customer is sure to buy the item that best suits him, avoiding a possible return. Customers will be more satisfied with their purchase and the experience they have had in the process, increasing the possibilities that they will return to the shop. This means that it increases engagement and improves the Net Promoter Score (NPS), in fact, more than 60% of customers globally say that augmented reality improves their purchase process and shopping experience.
On the other hand, AR can be a powerful weapon in the hands of a skilled commercial person. With this type of technology, he can show potential customers, anywhere, what the product he is selling looks like, and even place it in the space where it would go. Imagine selling air conditioning systems or large structures. You could place a virtual model of the product anywhere so that the customer has a clear idea of the final result of the product.
If you want to learn more about the impact and use of augmented reality in the sales sector, we recommend this post about AR in ecommerce.
7. Stand out from the competitors
Augmented reality allows you to show products in real time, size and environment. You will be able to carry out a demonstration in an original and interactive way anywhere.
The content offered through this technology is much more dynamic, interactive and allows you to introduce more information than any physical format (such as a brochure or flyer). User interest will be generated and the user will remember the experience, making your brand and products stand out from the competitors. Augmented reality provides such a realistic user experience that it creates a much deeper and more consolidated memory than any other type of advertising campaign, creating a closer relationship between the brand and the user.