Augmented reality: the success story of the retail industry
The retail industry is one of the industries that has been investing the most in digital transformation in recent years. In fact, it is one of the sectors that has already implemented the most technological advances in many areas such as logistics, storage, marketing and customer service.
Within this digital transformation and technological investment, it is worth highlighting the implementation of immersive technologies such as augmented reality. In fact, a notable increase in the insertion of this type of technology in the value chain was already expected in 2021, both in big retail and retail trade companies. What's more, up to almost 70% of customers already expected to use augmented and virtual reality technologies in the shopping process.
This is because, even before the pandemic, brands were beginning to realise that, in order to succeed, they had to undertake a strategic transformation process based on the implementation of immersive and intelligent technologies that offer a unique user experience.
What is augmented reality in retail?
As we have been saying, in recent years retail companies have had to reinvent themselves to innovate and improve the customer experience. In addition, and especially as a result of the pandemic, users have become much more demanding, so brands have had to adapt to the new multi-channel environment, both online and offline. In other words, they have had to innovate and adapt their new strategies both in the physical shop and in e-commerce to increase consumer satisfaction.
Today, 80% of customers value the shopping experience as much as the product and, what's more, 69% would be willing to pay more for one or more value-added services that enhance their user experience.
In this sense, augmented reality has become the opportunity and the ideal solution to compete in the market. It is a type of technology that allows users to interact, with just a mobile device, with the environment and with the brand, merging real and virtual elements such as objects, texts or images. This powerful technological tool offers a multitude of implementations and uses, from recreating the process and experience of shopping in a physical shop, without the need to go there, to the assembly of products or trying them out and testing them as if the user had them in their own home. It also offers a wide range of possibilities in the physical space, from interactive games that increase customer engagement in the shop, to providing directions, prices and features or even shopping without having to go to the checkout, with just a device.
Augmented reality in the retail industry, therefore, is changing the way products are discovered and purchased and is changing consumer habits. Moreover, it has become a tool that provides great value to the user, resulting in a differential factor when choosing one brand or another.
In fact, issues such as available stock, instruction manuals for products and their assembly or not being able to try them out at home were limiting factors when it came to finalising the purchasing process. Today, AR overcomes all these barriers by making it possible for the user to easily assemble any product or check exactly how it would look in their own home.
Using just a remote device, the device's camera and its GPS system, among others, AR gathers information about the real-world environment to superimpose additional contextual information, in 2D or 3D, on top of it.
Examples of AR applied to retail
Google has already confirmed in Forbes magazine that more than 60% of consumers prefer brands that offer augmented reality experiences in the purchase process. In fact, more and more companies have already implemented augmented reality in their value chain. Let's look at some examples.
Ikea augmented reality
What is considered to be the giant of the industry, was one of the pioneers in the world of augmented reality in retail. As a totally innovative brand, it began in 2013 to offer users the possibility of checking how furniture would look in their homes without the need to go to the physical shop.
Every day its technological investment has been greater, making innovative advances in the field of augmented reality as a key tool to offer the best user experience. Indeed, this makes it stand out strongly in the market.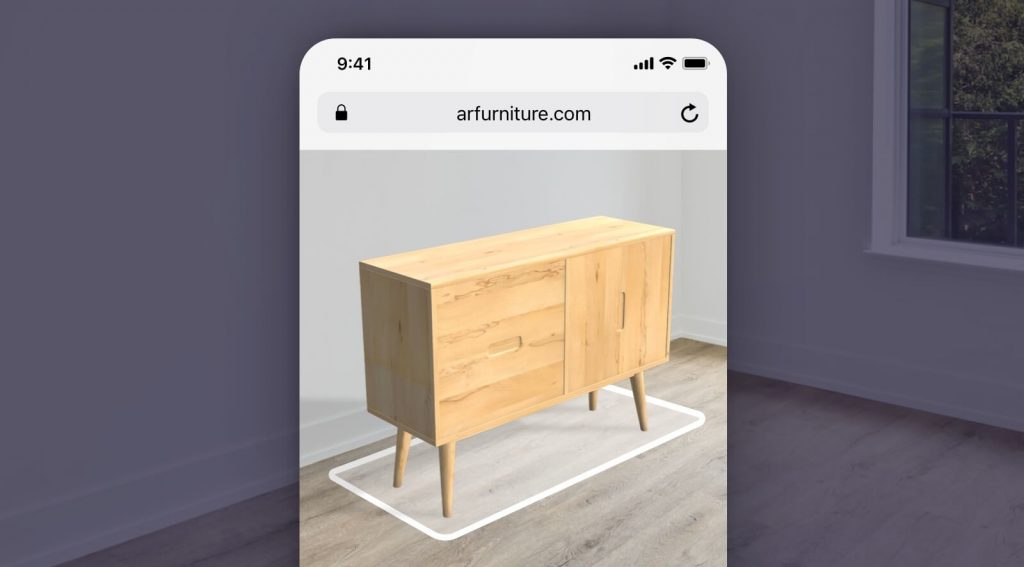 Augmented reality in retail stores
Virtual testers are one of the most widely used examples of augmented reality in retail. Thanks to Web AR, users and consumers can try products from anywhere without the need to visit the physical shop.
Many well-known brands from different sectors already offer AR within their value chain to enhance the user experience. Eyewear retailers Warby Parker in the United States or General Óptica in Spain, the high jewellery firm Diamond Hedge or the well-known cosmetics company Sephora, are just some of the major companies that already offer consumers the possibility of trying on their products without having to leave their homes.
Another application of augmented reality in the retail sector is to offer additional and valuable information to the user. For example, many companies are offering their customers an engaging and highly functional experience through their product packaging, providing information before they even open the product.
Companies such as Ideus, the Spanish electronics retailer, among many others, offer so-called experiential packaging. Thanks to AR, the user can see the product in 3D, as well as listen to an explanation about it. This gives customers added value without having to make a phone call or go to the shop and talk to a sales consultant.
AR in fashion stores
Within retailers, the fashion industry is one of the sectors that is investing the most in user experience and digitisation.
The AR ranges from virtual testers for the ecommerce part, to markers on the garments in the shop to be able to pay for them directly without having to go to the checkout or order another size, and even gamification games to generate engagement with users.
Zara is one of the pioneering brands in this sector in terms of investment in technological innovation. One of the interactive experiences it offers is to show its empty shop windows so that, thanks to AR, the user can see the clothes by simply focusing on them with their mobile device.
Another well-known brand that has already included augmented reality in its value chain as part of improving the customer experience is sportswear giant Nike.
Benefits of augmented reality in retail
After analysing what augmented reality in retail is and looking at the number of big brands that have already implemented it as part of their strategy, we are going to analyse the multiple benefits it offers to retailers.
As we have already seen, augmented reality in retail environments can be applied both online, i.e. to improve the user experience in ecommerce, and in the physical shop. In the latter, AR is of great importance, because, as we all know, shopping in physical stores decreased significantly after the pandemic and this technology proves to be a very valuable strategy to attract new customers to the point of sale.
Therefore, we are going to list all the advantages of implementing AR in the value chain of any retailer in both business models.
Greater precision at the time of purchase. Thanks to augmented reality experiences, customers and users can know more specifically the details of the product they want to buy. A good example is the furniture or product tester to check how it would look in the exact place where you would want to put it, without the need to physically have it.
It reduces the purchasing decision time. Precisely because of this specification and detail offered to the customer, they are able to resolve all doubts more easily and quickly, so the purchase decision process is reduced. Likewise, many users did not finalise the purchase because of all the doubts about the product, but, thanks to the possibilities offered by this technology, this metric improves notably.
Reduced customer returns. Being able to try the products as if the user had them at home, as well as the additional information that the user receives through an immersive experience, such as the packaging, makes them buy with much more certainty that they are going to keep the purchase, significantly reducing the number of product returns.
Improved user experience. This will logically translate into an increase in new customers, sales and customer engagement. Today, offering a unique, functional, attractive and value-adding customer experience has become, on the one hand, an indispensable requirement for consumers, who are increasingly demanding, and, on the other hand, a differentiating factor to stand out in the market against competitors. Moreover, augmented reality experiences allow sales processes to be developed with more personalisation.
It increases customer engagement, strengthens the relationship with the brand and builds customer loyalty. Augmented reality offers an immersive experience to customers so that they can interact with the environment and products. This creates a feeling of personalisation and proximity that makes them feel more connected to the brand.
Reducing customer service time in the physical shop. From offering in-store directions to guide consumers to where the company is interested in, to adding additional information on products, staff can spend less time on one-to-one customer service and more time on other in-store tasks.
How to implement AR in the in-store
As more consumers turn to their devices to shop, they expect more from the shopping experience. So, as we have already seen, there are two ways in which augmented reality can be included in retail; ecommerce and in-store.
The latter involves offering a fully immersive customer experience where customers can interact with products and elements of the physical store, as well as being able to shop in a simpler and more functional way. There are many actions or experiences that a brand can implement at the point of sale, such as a treasure hunt, through which it can make the user play and generate user engagement. By means of a treasure hunt, any brand can carry out a marketing campaign with different attractive actions such as offering discounts or loyalty points, showing new products or giving directions in the physical space and taking the customer where they want them to go, in an attractive and fun way.
Another functionality or application could be to add markers on the products so that the consumer, just by focusing with their mobile phone, can get much more information in less time than if they had to wait to be attended by the staff.
In our Experience Library we have different examples and templates for you to replicate and, step by step, create a shop experience. For example, here you can see how to create a treasure hunt based on a Web AR game where the user has to hunt for items by interacting with the environment. Once the game is finished, depending on the score, the user could redeem for discounts, prizes or loyalty points.
In terms of ecommerce, this part involves experimenting from any point with a remote device. That's why you have to offer the user a differential experience based on making them feel as if they were in the shop physically or as if they had the product in front of their eyes and could analyse its features or try it wherever they wanted.
In the Experience Library you can find different ideas to apply in the retail industry, but here is another example of an ecommerce experience. It is a product carousel with the use case of a sneakers shop.
Thanks to these experiences, brands offer a higher degree of interaction that makes the customer's shopping experience easier, more innovative and more efficient.