WebAR as a strategy to boost customer engagement
Are you interested in the concept of customer engagement? Maybe you are a company that wants to reach its potential consumers in a different way. You are looking for ways to create an impact with your products or services. Or maybe you are a creative 360 marketing agency, that offers strategic services to its clients to achieve their goals.
In any case, this information interests you, because here we are talking about a completely new concept, such as WebAR (Web Augmented Reality), and how simple it is to implement it in your branding, marketing, or customer experience strategy.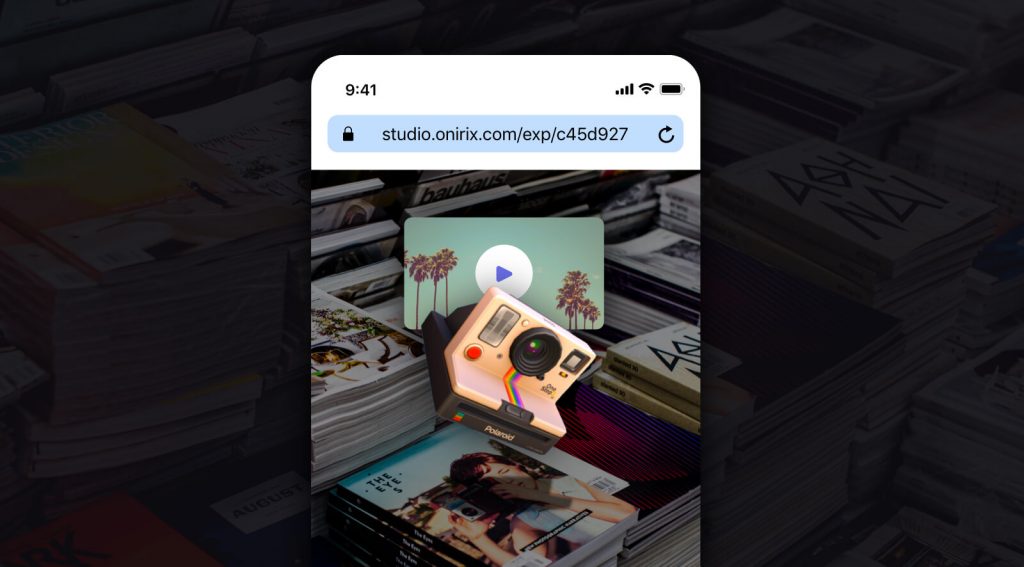 For those of you who don't know what it is about, in this post we talk in detail about webAR. Anyway, we will do a little review. Basically, this technology allows us to create augmented reality experiences without the need to download a specific mobile app. Everything is done through the web browser (Chrome, Safari …). With this, we avoid that our clients or end consumers have to download a new application to view our products, games, offers, or virtual catalogs, developed with AR.
Why think about augmented reality to include in my brand strategy?
Augmented reality allows us to create a new communication channel with our audience. It is an interactive channel, where the end consumer can carry out specific actions with their environment. This helps to obtain contextualized and relevant information about what is within their reach. If what he has in front of him at that moment is one of your products, through augmented reality, we can invite him to take the next step in the relationship with the brand. Everyone has a mobile phone in their pocket, and therefore, an AR tool ready to be used.
Through the packaging of an item, through an advertising poster, information at the selling point, a booth, a flyer that is sent home to potential consumers, or through links on our website that show products with total realism. In all these cases and in many more, an augmented reality experience can be included, thereby opening this new channel of communication.
These types of actions generate an impact on the audience, generate new brand prospectors, who share their experiences with their relatives or friends. If the actions generated have a certain recurrence, they can help to generate loyalty and commitment. In addition to being actions that add traceability, and allow obtaining statistics and analytics that are otherwise very difficult to obtain: how many people are interested in this ad? How many people have stopped in front of the stand in a certain establishment?
That is, augmented reality is one more mechanism, which allows to help show a brand or a product in an impressive way, offer a higher level of interaction with consumers, obtain information on how they relate to my brand, and all this using existing resources: products, points of sale, web pages, billboards, etc.
Examples of marketing or commercial actions with webAR.
Obviously the applicability of augmented reality is enormous. Both through identifying images or brands, through web links, through QR codes, GPS positions. Any scenario is capable of being able to include one more layer of information, and offer an experience with this technology.
Here we discuss some of the examples where we already apply webAR for our clients, or where we help marketing agencies to carry out these campaigns.
Product packaging and flyers – let's tell stories.
The packaging of the items that consumers purchase can be a perfect trigger for AR experiences. Thanks to this, the consumer will be interacting in a different way with that product, before deciding whether to purchase it, or while consuming it. Stories can be assembled to talk about related products (for example through recipes), relevant information (nutrients or manufacturing process), or simply a short story at a certain time (Christmas story).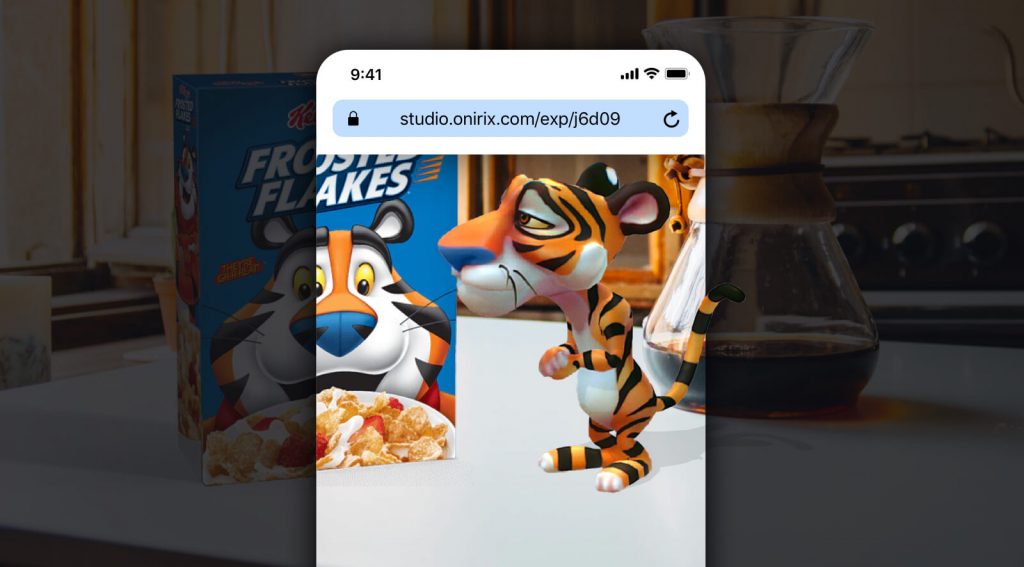 Experiences at the selling points: traceability and statistics.
How many times do we pass a poster in a store or a large establishment and stare? How does the manufacturer know if his poster has caught our attention? How is it possible to know if we are interested in that product in that specific establishment? If we give that element an interaction like AR, we will be able to know how many people have passed through that place and have been genuinely interested in that product at that time. We can even map this interaction globally, and better determine where to place our future ads, where they generate the most interest and engagement.
Geolocated gamification: attracting the public to my business.
A very interesting technique for attracting the influx of the public to certain businesses, stores, or events, is to generate some type of geolocated gamification, using augmented reality. In this way, the consumer is involved with their environment. An entertainment tool is offered, which also creates competition and loyalty. For example, in shopping centers, place items the user has to collect in a limited time, thus promoting their attendance, for example during holidays and sales season.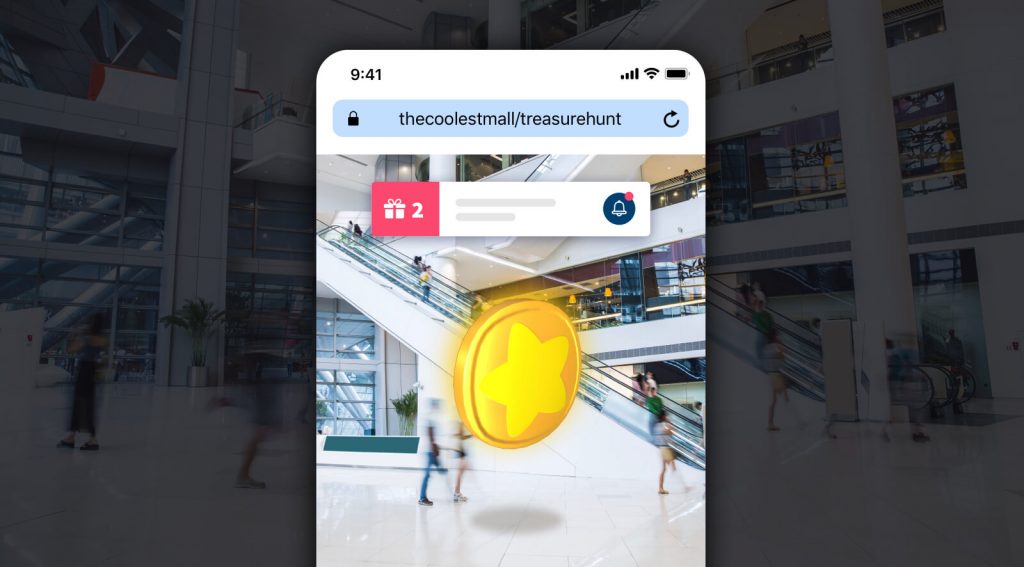 Virtual catalog: ecommerce in the era of Covid.
Another widely used technique in the world of sales is to generate a virtual catalog of the relevant products of a company. Thanks to this, the consumer can visualize the articles with total realism, see if they fit in his home, for example if it is a piece of furniture, configure options or colors. In this way, the relationship with the brand grows, the user's decision-making power is reinforced, and also, in times like the one we live in, because of the Covid, this commercial work can be done without contact or travel.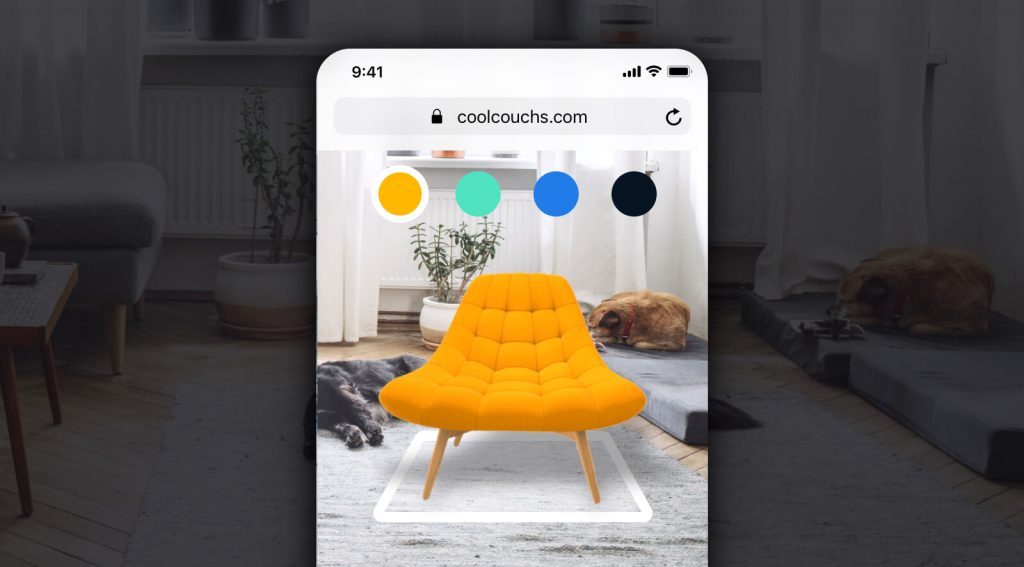 If you are wondering if augmented reality could be interesting for your business, the answer is yes, without a doubt. If you also think that it is something complex, expensive, and difficult to implement, don't worry, that's what Onirix is ​​for, we make the process simple and can be adapted to your needs.